Tip pooling troubles: What are your rights if your boss steals your tips?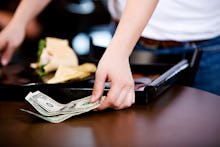 Tipping cuts both ways. On one hand, it's an opportunity for customers to reward a job well-done and an incentive for workers to do their best. On the other, workers who rely on tips can be paid as little as $2.13 as a base wage — and critics of the practice argue that tipping can encourage exploitation and sexual harassment, prompting some prominent restaurant groups to abolish the practice entirely.
Following huge settlements over misappropriated tips by celebrity restaurateurs like Jean-Georges Vongerichten and Mario Batali, the Department of Labor's Wage and Hour Division issued a 2011 rule that entitled servers to their own tips. But late last year, the agency took steps to roll back the Obama-era rule with a new proposal that would allow restaurants to collect them directly before doling them out to workers.
Advocates of the rollback, as reported by Eater, argue that it's not egalitarian for waiters to keep their own tips: after all, aren't busboys, cleaners, and chefs entitled to gratuities as well?
Of course. The problem is that employers wouldn't necessarily be required to actually pass tips on to the workers since those tips would legally belong to the owners, explained Heidi Shierholz, a former Labor Department chief economist and lead author of an Economic Policy Institute report which estimated that the change could wind up shifting some $5.8 billion in wages from workers to employers.
A similar effort to work around the problem of uneven tip disbursement by raising prices and instituting a no-tipping policy has similarly faced backlash in the form of a lawsuit against Shake Shack founder Danny Meyer. The suit claimed that the profits from higher prices weren't being passed on to workers.
While employers likely wouldn't keep all of their workers' tips if they were allowed to collect them, Shierholz said, they could take a portion of them — likely the difference between an employee's take-home pay and whatever they'd be able to earn at a comparable, non-tipped job. In other words, if there's $10 left over at the end of the night, and the boss needs to pay out only $8 to keep their employees from being poached by another job, bosses are going to keep that extra $2.
"It gives employers control over tips," Shierholz said in a phone interview.
"Businesses are very unlikely to pay their back of house workers under this rule, because there are no restrictions on what they can pay those workers," she added. "They may go through some pretenses of paying the back-of-house workers some tips they collect, but the basic economic theory ... says that this will be offset by a reduction in their base pay. So they'll say, 'We're reducing your base pay by X amount, but we're going to share tips with you.'"
The Labor Department has not contradicted EPI's figures with numbers of their own, at least not publicly. The Department actually did its own analysis, according to a Bloomberg BNA article published Thursday citing unnamed sources. The "unfavorable internal analysis" reportedly found that "employees could lose out on billions of dollars in gratuities." But officials including Treasury Secretary Alexander Acosta reportedly questioned the report's methodology and had it removed from the proposed rule when it was published on Dec. 5 of last year.
Bloomberg BNA didn't report out the exact details of the new report's findings, which have still not been released to the public — despite the fact that the public commenting period ends on Feb. 5, a point that Ben Penn, the reporter behind the story, made on Twitter.
How to protect your wages
If you've been the victim of wage theft, whether it's tips withheld or not getting paid for overtime, first find out if this is something you can address directly with your employer. In many cases, the underpayment may be a payroll error that can be quickly remedied.
If you are unable to resolve the issue directly with your employer and are represented by a union, you should also bring your concerns there — as your reps may have bargaining power to help resolve the dispute more quickly. You can also reach out to local workers groups that can offer resources and help hold your employer accountable.
Not seeing results? You can also report wage theft to the Department of Labor (using this page) as well as with your state labor agency. When you file your complaint with the Department of Labor, you'll need to have all of your basic personal information, as well as the name of a manager or owner of the business where you work. The agency also recommends compiling evidence — pay stubs, even personal records of the hours you worked, to include with your complaint.
DOL reports are confidential, regardless of immigration status. Depending on which U.S. state you're in, there might also be more robust protections available, Shierholz added, noting that Labor Department standards are treated by the law as a floor, as opposed to a ceiling.
For example, in California it is illegal for an employer to threaten to report your immigration status if you complain about workplace rights. Shierholz expects that if the Labor Department's new rule goes into effect, more states might also be prompted to step up their labor protections, particularly for tipped workers.
If you are worried that you may have trouble finding work because of filing a complaint, it might be wise to find another job before you file a formal complaint. You can still proceed with your claim and may be entitled to back wages. Finally, the public comment period on the rule is still open, at least through Feb. 5.
Shierholz encouraged workers who are concerned about the change to submit their comments, which you can do here.
Sign up for the Payoff — your weekly crash course on how to live your best financial life.