Trump's claim that his State of the Union ratings were highest "in history" debunked — by Fox News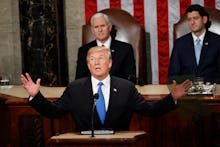 President Donald Trump on Thursday morning falsely claimed that Tuesday's State of the Union speech had the highest ratings in history, again highlighting his well-documented obsession with television ratings.
"Thank you for all of the nice compliments and reviews on the State of the Union speech," Trump tweeted Thursday. "45.6 million people watched, the highest number in history. @FoxNews beat every other Network, for the first time ever, with 11.7 million people tuning in. Delivered from the heart!"
It's true that 45.6 million people tuned in to watch Tuesday's speech, according to Nielsen data first released Wednesday. But the viewership was certainly not "the highest number in history," as Trump claimed.
Both former presidents Barack Obama and George W. Bush had higher ratings for their State of the Union addresses in 2010 and in 2003, respectively. Obama's State of the Union address in 2010 brought in 48 million television viewers, and Bush's 2003 address brought in 62.1 million views.
Trump's 2017 address to the joint sessions of Congress brought in more than 2 million more views than Tuesday's State of the Union, according to data from Nielsen.
Trump's claim was quickly debunked online — including by Fox News.
Some Trump defenders pointed to the fact that livestream viewers were not counted. Nielsen does not yet count livestream figures, and there is no livestream data available. But as CNN's Brian Stelter noted on Thursday, while livestreaming may be becoming a more popular way to tune in, researchers have found that "the vast majority of people still watch big events on TV, not the web."