Medicaid expansion could be the key to red-state Democratic victories in 2018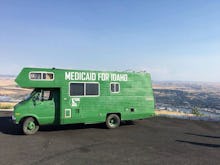 Driving through the winding, forested roads of central Idaho can be a treacherous gambit in the height of winter, even for native Idahoans. So when Luke Mayville and Garrett Strizich decided to drive two hours through a winter storm in a bright-green 1977 Dodge Camper with the words "Medicaid for Idaho" painted on the side, they knew they were taking a risk.
While driving through the small town of Cottonwood (population 917 in 2016), Mayville and Strizich decided to make an unscheduled stop at St. Gertrude's Monastery. The men had met several of the monastery's nuns at the town's Raspberry Festival the previous summer, and thought they'd try to recruit some to join their campaign to expand Medicaid in Idaho.
As the nuns gave the two men temporary refuge from the storm, Mayville launched into an impromptu presentation on getting Medicaid expansion for Idaho on the ballot in 2018. The nuns were intimately familiar with the Medicaid program and said many of their elderly members who'd left the monastery relied on it for health care.
Every nun in attendance signed their petition.
Like many red-state progressives, Mayville and Strizich have been emboldened in the Trump era to channel the recent wave of grassroots organizing into progressive electoral victories in conservative territories. They believe Medicaid may be the key to turning deeply conservative states like Idaho into hotbeds for progressive politics.
In July, Mayville, Strizich and his wife, Emily Strizich, co-founded a group called Reclaim Idaho, an organization devoted to pushing Idaho's politics left. In the fall, they launched their Medicaid for Idaho ballot initiative, driving a bright green "Medicaid Mobile" van across Idaho to spread their message and gain support.
"We think that ultimately, the politics of Idaho will only change if a lot of new people come into the process — especially younger voters and working people of all different backgrounds who have tended to sit out of midterm elections, and only vote for big presidential elections," Mayville said in an interview with Mic. "Medicaid expansion is exactly the kind of policy that will really draw them out. So much is at stake in whether or not they vote, and we intend to make that very clear."
Activists like Mayville and the Striziches are not alone in their convictions. Organizers in red states like Utah and Nebraska are also working to put Medicaid expansion on the ballot in 2018.
While no one expects such deeply red states to become progressive havens overnight, even if a Democratic wave comes, voters who turn out on the Medicaid issue have the potential to tip the scales for many important state-level and down-ballot races — and possibly even some congressional battles.
Of the 18 states that have not yet expanded Medicaid, 13 have gubernatorial elections in 2018. This makes them fertile ground to campaign to extend health care to thousands of residents.
Medicaid numbers don't lie
Polling and surveys consistently show strong support for Medicaid expansion across the country, even in some of the most conservative states. An analysis of survey data provided exclusively to Mic by the progressive data science group Data for Progress found that support for Medicaid expansion exceeds opposition in all but one state — Wyoming.
"Our model fits well with state-level surveys, which show strong support for Medicaid expansion, even in deep-red states such as Kansas, South Dakota and Georgia, where support for rejecting expansion is at 41%, 42% and 43% respectively," Data for Progress co-founder Colin McAuliffe said in a statement. "For reference, Gov. Ralph Northam (D-Va.) successfully ran a pro Medicaid expansion campaign in Virginia, where public opposition to expansion (42%) is comparable to these redder states," he added.
Evidence suggests putting Medicaid expansion on the ballot has the potential to drive turnout and alter the electorate. For example, after Maine voters put Medicaid expansion on the ballot in 2017, officials across the state reported higher-than-expected turnout for an election that did not include any statewide or national races.
Medicaid expansion also has long-term effects on voter turnout.
A 2017 Yale University study found that in places where Medicaid was expanded, voter turnout and political participation increased significantly compared to similar areas where Medicaid expansion was blocked.
"Medicaid, like other social programs in the United States, can generate political feedback effects," Alex Hertel-Fernandez, assistant professor of international and public affairs at Columbia University, said in an interview with Mic. "By providing social benefits to people, you can sort of bring them into politics, give them a stake in what government does and also just [give] them the resources to participate in politics."
Taking a chance on Medicaid
Idaho may be the perfect state to try and test these political theories. One of the most deeply conservative states in the country, Idaho's state government is completely controlled by Republicans, with supermajorities in both the state House and Senate. President Donald Trump won the state by a margin of more than 30 percentage points in 2016.
Reclaim Idaho organizers, however, believe the idea of Medicaid expansion can change the nature of Idaho's electorate, while giving progressive candidates a strong populist issue to use against Republicans in the general election.
For example, Rep. Raul Labrador, one of the state's leading Republican candidates for governor in 2018, voted for the GOP's health care bill, which would roll back Medicaid expansion and cut Medicaid overall. During the debate over that legislation, Labrador came under fire for telling a constituent at a town hall, "Nobody dies because they don't have access to health care."
However, a recent poll found that 70% of Idahoans favor a plan to close the so-called "health care coverage gap" between those who qualify for Medicaid without the expansion and those who qualify for subsidized health care through the Affordable Care Act's exchanges.
Such support for closing the health care gap indicates that putting Medicaid on Idaho's ballot could be an effective tool for turning out voters who support a progressive policy agenda, but would otherwise stay home on Election Day.
Even so, activists may face an uphill battle getting Medicaid on the ballot in deep-red states like Idaho.
In 2012, Idaho voters repealed some of the state's unpopular education laws via ballot measure. The state's lawmakers reacted by raising the bar for putting initiatives on the ballot: In addition to getting signatures from 6% of the state's voting population, signatures must be obtained from 6% of registered voters in 18 of the state's 35 legislative districts to get a question on the ballot.
Mayville and his fellow organizers, undeterred by the legislature's tightening of the rules, decided to traverse the state in their "Medicaid Mobile" to gather support. They managed to get around 10,000 signatures in their first month and said they're on track to hit their target of 6% of voters in 18 districts.
"Our experience so far is that there is overwhelming support for Medicaid expansion," Mayville said. "That's not just our experience from public events that we've held that tend to draw more progressive people. It's also our experience when we just park in random grocery-store parking lots in small rural towns that tend to vote heavily Republican. You just engage voters, and overwhelmingly they want to sign when you start the conversation with them."
Elsewhere, activists hoping to build progressive movements in conservative states are organizing around the principles of expanding and strengthening Medicaid access — while at the same time attacking lawmakers who voted to cut Medicaid during Republican efforts to repeal the ACA in 2017.
In Indiana, where conservative lawmakers passed a more limited version of Medicaid expansion, grassroots groups have organized around potential cuts to Medicaid to grow support for a broader left agenda. The group Hoosier Action has organized door-knocking campaigns in which it records videos of constituents who need or support Medicaid and send them to elected officials.
Jennifer Brooks, an organizer with Hoosier Action, told Mic her sister died of an opioid overdose after receiving a prescription for painkillers while being treated through Medicaid. She said improving Medicaid motivated her to become involved in political organizing for the first time.
"It just became really clear to me that how thinly spread Medicaid was was a contributing factor to [my sister's] death," Brooks said. "I've been somebody who's cared about a lot of issues for a long time, but it's only been in the last year or so that I've started to really move into action — and I'm 100% sure that that's what's required. Ordinary people have to start assuming the power that's ours in terms of directing legislation that actually works for us, protects us and enables us to thrive."
Organizers may soon find even more success organizing people like Brooks in expansion states, thanks to new guidance from the Trump administration that allows states to begin curtailing Medicaid programs by adding elements such as work requirements to receive benefits.
Activists in Kentucky are already organizing to stop the state from implementing such requirements, which could result in a significant number of current Medicaid enrollees losing benefits.
Though some argue retooling Medicaid will make expansion more palatable to conservative electorates, organizers like Mayville see it as just another way to deny people care.
"We don't think that the administration's permission to states to impose work requirements sets back our cause," Mayville said. "The Trump administration's push for work requirements gives us an opportunity to draw contrasts between what Washington politicians are doing and what we, the people of Idaho, have an opportunity to do. While they are trying to take health care away from people, we're trying to expand it."