2018 Winter Olympics: AJ Edelman, an Orthodox Jew, is Israel's first skeleton athlete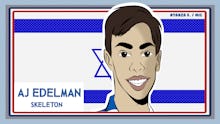 During the Winter Olympics, Mic is tracking a group of athletes who are smashing records and breaking boundaries. To follow the coverage, visit our Olympics hub.
Name: Adam "A.J." Edelman
What's ice cold, moves upside down and immigrated to Israel?
A.J. Edelman — a.k.a. the "Hebrew Hammer" — is Israel's first skeleton to compete in the Olympics. Skeleton, or sledding head-first down a frozen track at 90 miles per hour, isn't the most traditional of sports. But Edelman, who hails from a town outside of Boston, became dedicated to proving that proud Jews can do sports — and they can do them really well.
"Everyone knows the stereotype that Jews don't do sports," Edelman said in an interview with Forward. "We are overrepresented everywhere but in sports. So I really wanted to change that and if I moved forward, do something that had a major impact."
After playing hockey for MIT, Edelman tried his hand (well, his entire body) at skeleton and was instantly hooked. A mere four years after his first go, he qualified for the Olympics — without the help of a trainer. When he wasn't practicing on a course, Edelman watched YouTube clips to refine his skill. "I wanted to 'retrace' the runs in my mind so that when I would actually be on the sledding course, I would know what to do," he told Haaretz.
"I wanted to do something really, really big, so that people could see me," Edelman explained. "I think the Olympics is the platform – the place where people can see you and know they can do it, too."
As a practicing Orthodox Jew, the 27-year-old would miss college games on Saturdays in observance of Shabbat. Fortunately, the skeleton races in South Korea are currently scheduled for Thursday and Friday, so he won't have to skip out on what's sure to be one of the biggest moments of his young life.
When to watch A.J. Edelman compete:
Edelman was eliminated from the skeleton competition Thursday in the third round.
Men's skeleton run 1, Feb. 14 at 8 p.m. Eastern
Feb. 16, 2018, 10:40 a.m.: This story has been updated.