Michael B. Jordan talks 'Black Panther' and making his debut as a director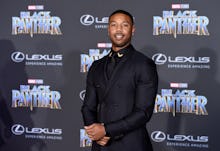 Michael B. Jordan already has an impressive resume — stints on The Wire and Friday Night Lights, starring roles in Ryan Coogler's Fruitvale Station and Creed — but the 30-year-old actor just recently added another skill to his repertoire: directing.
As part of a partnership with Brisk (which is the official drink sponsor of Marvel's Black Panther film), Jordan got behind the camera to shoot a 30-second spot that offers a glimpse at the creativity that went into his next big-screen role, as the villain in Coogler's hotly anticipated Black Panther. The clip — which Jordan also stars in and produced with his production company, Outlier Society — features Jordan looking over the design for his Panther character, Erik "Killmonger" Stevens, and includes a voice-over pep talk where he talks about the hustle that's necessary to make it in the arts. Also highlighted is a young street artist, Hebru Brantley, who is working on a mural painting of Black Panther himself.
Mic got on the phone with Jordan recently to discuss his experience as a director, what his hopes are for Black Panther and who are some up-and-coming talents that he's excited about.
This interview has been edited and condensed for clarity.
Mic: I know you've worked as a producer, and you've obviously been on camera, but how did it feel to be on the other side of the camera, as a director?
Honestly, it was a lot of moving pieces — jumping in front of the camera, behind the camera, but working with Prettybird productions and one of my mentors, Paul Hunter, helped me out a lot during the process.
It was fun — you had to get the things that are in your head and see them actually come to fruition, actually come alive on set. It was a lot of fun to actually work behind the camera and direct this video and show the preparation of me kind of creating this character, Erik Killmonger — and then also showing the preparation process of a young creative, a young artist, going through his process to his big debut of a mural that he wanted to create.
It was something magical about this experience, working with the "Hidden Hustle" video and partnering with Brisk, it just all kind of came together for me.
Were there any specific tricks that you picked up from Ryan Coogler or any of the other directors that you've worked with?
Ryan really loves working with actors, and I love working with actors also, so it's just trying to get as many different options as you can, so you have choices in post. I think one of the biggest things for him is, he always told me, you end up in post and you wish you had one more take or you had another angle or another shot, so try to get as much as you can while you're in a setup or you're in a shot, to overshoot and just kind of also see the edit in your head, so you're cutting in your head as you go, you get the pieces that you feel you need. So just being aware of that process is something I picked up from Mr. Coogler.
This theme of aspiring artists, exploring the creative process in general, is that something you specifically wanted to capture on film? How did you settle on that?
I can't take full credit for that one. That was definitely something that Brisk came up with, the "hidden hustle." And, honestly, I'm just trying to find the best way for me to make an impact, and that's why I brought my production company, Outlier Society, and Brisk together, and they really helped create this spot that shines a spotlight on the creative hustler's journey — the drive, the passion, what goes into it.
So I give them credit for that, and Outlier came through and executed the vision, which is something that I'm getting used to: working with companies and stuff like that, to help a common goal, a common vision, and instead of just being in front of the camera, actually being a part of the production, being a part of the creative process a little bit more than I would be if I was just being an actor. It was a good stepping stone for me.
Hopefully [Black Panther] does break down barriers and opens up doors for other people to have the same opportunities that the cast of Black Panther has, moving forward.
Are there any up-and-coming directors or actors that you're really excited about that you want people to pay attention to?
Barry Jenkins is an amazing director — I think he's super, super talented. Obviously, you saw his work on Moonlight, but that's just the tip of the iceberg for him, he has a lot more coming up. These directors, the Baker brothers — Jonathan and Josh Baker. They're incredible directors from Australia; I had the opportunity to work with them and I just think they're super talented and they're definitely the future as well.
Actors… We've got lil' Caleb [McLaughlin] from Stranger Things, he's an extremely talented actor. I think the sky's the limit for him. We've got Nafessa Williams, she's on Black Lightning, another historic show that did great ratings. She's an amazing actress. There's so many to name, honestly.
If we could just pivot to Black Panther: I'm sure you're aware that so many people are excited for this movie, not just because it's the next Marvel movie or even the next Ryan Coogler film, but because it's a different kind of superhero movie.
What are you talking about? What do you mean a "different Marvel movie"?
Oh, I just mean that it's…
Nah, I'm just fucking with you, I'm just messing with you. What were you saying?
Did you guys feel a responsibility on the set, where you were like, "This is another vision, one of a proud, black superhero"?
I think there was a little bit of it, honestly, just when you take a moment and you look at it, like, "Wow, OK, cool, this is really happening, we're really doing this, it hasn't really been done before." But it comes to a point — for me, personally, at least — where it's like, "Alright, business as usual, we've got to approach this thing like we approach everything else and leave 120% of ourselves on set. We've got to squeeze every scene that we can until there's nothing left and we want to exhaust it, we want to make the best project possible." Not just because, "Oh, it's an all-black cast and it's all this."
No, we want to do the best project because we're the best at what we do. Individually, I think we all have to feel like we're coming to the table, we're bringing our A game. And then, when you're actually doing the work, you're so focused on what you're doing that day. You're not really looking at the big picture every day — that's everybody else's job, to speculate and put the hype and anticipation on it. When you're in the forest, it's hard for you to see the trees. You've got to step back a little bit, and then it's like, "Oh, wow, OK. This can do something, this can be something special." And then those little thoughts start to creep in.
But while we're shooting, and while we're working it, there are moments here and there, where you look around and it's like, "Oh, man, this is where we work? This is a crazy set, this is awesome, this is amazing, this is something like I've never done before." But then muscle memory kicks in and it's like, "Oh, yeah, we've got to shoot this scene today." You can't sit and marvel at your work while you're still working.
Are you hoping this movie achieves something beyond being a great movie? Are you hoping that it establishes that big blockbusters led by black casts and directed by a black director are viable?
Nah, I hope it does horribly. Of course, man! Of course you want a project like this to do well, bro! Of course you want a project like this to supersede and blow away all expectations. You want this project to do well because this is a business, so the next time around, there will be more opportunities and there'll be more chances taken on a cast that looks like this, or a director that looks like Coog, or women — just not your norm, not your typical situations. Hopefully this does break down barriers and opens up doors for other people to have the same opportunities that the cast of Black Panther has, moving forward. The progression — that's what we're in this for.