Newsweek Media Group chair exits company amid ongoing turmoil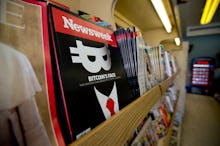 Newsweek Media Group co-founder and chairman Etienne Uzac and finance director Marion Kim stepped down from the company Thursday amid an ongoing probe into the company's finances and allegations of ad fraud.
The departures of Uzac and Kim came hours after BuzzFeed News reported that Newsweek Media Group, whose five publications include Newsweek and the International Business Times, was engaging in fraudulent online traffic purchases. The BuzzFeed article was based on a report by Social Puncher, a consulting firm that investigates ad fraud, which claimed to have found that the International Business Times, which won part of a digital advertising campaign for the Consumer Financial Protection Bureau in 2017, displayed those ads to an audience that consisted in part of "cheap junk traffic with a share of bots."
In a statement Thursday, Newsweek Media Group aggressively denied the report.
"Newsweek Media Group does not engage in the fraudulent activities described in this article," the statement from Newsweek Media Group, which was sent outside of the company and also distributed to company employees, read. "The report cited by BuzzFeed News mischaracterizes Newsweek Media Group's business behavior as unethical and distorts the truth."
In a note to staffers accompanying the statement, which was provided to Mic by a company employee, Newsweek Media Group CEO Dev Pragad thanked employees for their "ongoing professionalism and perseverance through the difficult time we've experienced over the past two weeks."
"Our challenges will make us stronger if we continue to work together and pull in the same direction," Pragad wrote.
Uzac's departure did not come as a surprise to some staffers who spoke with Mic on Thursday. According to Newsweek's own reporting, Uzac's office appeared to have been emptied as of Jan. 25.
Some staffers said that the mood there is bleak, and some fear that the BuzzFeed story could be extremely damaging to the company, which has made web traffic a high priority. One person who writes for a Newsweek Media Group publication told Mic that there's a deep concern among staffers about job security in the wake of the report alleging ad fraud.
"This latest story feels like it threatens [Newsweek Media Group] existentially in a way the others didn't," that person, who requested anonymity because they were not authorized to publicly discuss the situation, told Mic.
Some company managers in recent weeks have tried to assuage staffers and have suggested that there will be increased efforts to be transparent about the company's status, according to staffers. Newsweek Media Group has also said publicly that its business is improving. In a statement on Jan. 25, Newsweek said that it had made a "rapid recovery" from financial challenges in 2016 — a year when the company missed payroll, laid off more than 30 journalists, spun off Newsweek in a company restructuring, and subsequently laid off another half-dozen staffers from the magazine.
"Under new management, Newsweek Media Group has made a rapid recovery from the difficulties of 2016," the company said in a statement to Newsweek's own reporters. "The company clocked up a record audience and revenues in recent months and is in the midst of an ambitious expansion of its newsroom."
But this hasn't seemed to ease concerns for some staffers, who repeatedly expressed grave concern about the state of the company.
"I think basically management is pretending things are OK, and some writers are like, 'bullshit,'" another Newsweek Media Group employee said.
The departures of Uzac and Kim cap off an especially tumultuous two weeks for the company, which was known as IBT Media until an April 2017 rebrand. The company, which bought Newsweek in 2013, has struggled in recent years as the business climate for digital media has become increasingly fraught.
Two weeks ago, the company's offices were raided by investigators from the Manhattan District Attorney's office as part an at least 17-month-long probe into the company's finances. Newsweek reported on the incident at the time. As part of the raid, investigators hauled out 18 computer servers. The New York Post reported at the time that the investigation may center around the company's ties to the San Francisco Bible college Olivet University, something that Olivet has denied. The company also has ties to Olivet University founder David Jang, an evangelical pastor who has been the subject of past controversy, according to Mother Jones.
Earlier this week, chief content officer Dayan Candappa took an immediate leave of absence after BuzzFeed reported that he had been fired from his previous position at Reuters after a female colleague reported him for sexual harassment. Company representatives told staffers that Newsweek Media Group would bring in outside investigators to look into the matter.