Trump's favorite talking point on black unemployment is dead as it climbs to 7.7%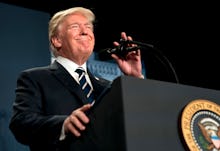 President Donald Trump has been touting a jobs report statistic showing the black unemployment rate at 6.8% — a record low.
However that new favorite talking point is no longer true, after the Bureau of Labor Statistics released its January jobs report Friday, and it showed the black unemployment rate shot up to 7.7%.
That 7.7% rate is the highest since January 2017, when Trump took office.
Trump has been touting the black unemployment rate for weeks.
"Unemployment for Black Americans is the lowest ever recorded. Trump approval ratings with Black Americans has doubled. Thank you, and it will get even (much) better!" Trump tweeted on Jan. 16.
He also touted that same statistic in his State of the Union address Tuesday night.
"African-American unemployment stands at the lowest rate ever recorded, and Hispanic-American unemployment has also reached the lowest levels in history," Trump said.
The January jobs report also showed that Hispanic unemployment ticked up to 5%, from 4.9% in December.
Trump's touting of the black unemployment rate was always misleading. It is far higher than the national average, which held steady in January at 4.1%. And it had been falling since 2010, when the economy began its upward swing under former President Barack Obama.
However, he now can no longer use that talking point to try and shame his detractors, such as rapper Jay-Z.
Trump lashed out at Jay-Z using his favorite new statistic after he criticized Trump in an interview with CNN.
"Somebody please inform Jay-Z that because of my policies, Black Unemployment has just been reported to be at the LOWEST RATE EVER RECORDED!" Trump tweeted on Jan. 28.