Trump's Cabinet is the most ethically challenged in history — and they don't care, watchdogs say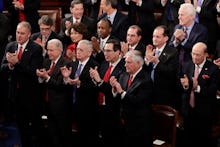 Welcome to Mic's daily read on Donald Trump's America. Want to receive this as a daily email in your inbox? Subscribe here.
Friday's dispatch: Trump's "most unethical" Cabinet
President Donald Trump's financial conflicts of interest are well-documented. His companies have seen multimillion-dollar increases in business since he took office, foreign governments and major corporations curry favor by holding events at Trump properties and the Trump International Hotel Washington, D.C., leases space from the federal government.
The Cabinet also faces serious questions about their ethics. The resignation of Brenda Fitzgerald, the Centers for Disease Control and Prevention director, on Wednesday for investing in tobacco companies while leading America's anti-smoking efforts reminds us of these issues of transparency and financial motives, government watchdogs told Mic.
"They just don't care, they just don't care at all," Robert Weissman, president of corporate accountability group Public Citizen, said in an interview. "The kind of thing that happens now, routinely, would have been the signature scandal of prior administrations."
This week alone, multiple Cabinet officials have faced scrutiny for ethics and transparency issues. The Washington Post reported Housing and Urban Development Secretary Ben Carson used his son to organize events in Baltimore over the summer — despite warnings from department ethics officials that Ben Carson Jr. was inviting his own business associates to events with his father, a top government official. Meanwhile, Labor Secretary Alexander Acosta allegedly removed information from a report that showed a new federal rule on pooling tips could lead to employees losing out on billions of dollars.
But that's nothing new. In September, it was discovered that Treasury Secretary Steven Mnuchin removed research from his agency's website that contradicted his views on the Republican tax plan — which may benefit Trump to the tune of $11 million. The Cabinet — the wealthiest ever — and their families will see a windfall of hundreds of millions of dollars from repeal of the estate tax alone.
Such stories haven't made major headlines throughout the first year of Trump's chaotic presidency. In late January, for example, focus was placed on the State of the Union address and the ongoing controversy over a Republican-drafted memo about the FBI.
"In any other normal time, these would be big scandals," Stephen Spaulding, chief of strategy for government watchdog group Common Cause, said in an interview. "There would be hearings. But it feels like any other day in Washington, unfortunately. The danger is that it becomes normalized, and we forget what is a big deal and what isn't a big deal."
Reports from government watchdog groups that review Trump's first year in office largely focus on the president. There is just so much to track with Trump alone, the groups said. But groups like Common Cause and Citizens for Responsibility and Ethics in Washington, a left-leaning accountability group, did document some abuses by Trump's closest advisers.
Commerce Secretary Wilbur Ross has a "pattern and practice of ignoring, if not flouting, his legal and ethical obligations to disclose his interests and avoid conflicts of interest," CREW wrote in a report about the administration's ethics. Common Cause wrote of Mnuchin that his "investments have not been disclosed, raising the issue of potential Mnuchin conflicts of interest arising from his undisclosed holdings that the public will never know existed."
"If Trump won't divest, why should anyone else?" Jordan Libowitz, communications director at CREW, said in an interview. "It's security by obscurity — there are so many potential ethics issues it's hard to follow any particular one."
"People are a little bit anesthetized to it," Weissman added.
Today's question: How many of the above examples about Trump Cabinet members were you aware of?
Please email us at trumpsamerica@mic.com with your thoughts.
Friday in Trump's America
The memo: Trump has approved the request of House Republicans to release a memo that Democrats and FBI Director Christopher Wray say will undermine the credibility of the Department of Justice and special counsel Robert Mueller, based on false or twisted information. The memo could be released Friday and could trigger Wray's resignation.
Here is an explainer on the memo controversy from USA Today. A new poll shows a majority of Americans want Mueller's work protected — even as the GOP sets sail to undermine him. House Minority Leader Nancy Pelosi (D-Calif.) and Senate Minority Leader Chuck Schumer (D-N.Y.), the Democratic leaders in Congress, sent separate letters to House Speaker Paul Ryan (R-Wis.) urging him not to let Republicans release the memo and demote Rep. Devin Nunes (R-Calif.) from chairman of the House Intelligence Committee.
Watch for coverage of the memo and fallout all day at Mic.
Election year: Republicans say they will not pursue another repeal effort of the Affordable Care Act this year, though Sen. Lindsey Graham (R-S.C.) said he "will not give up."
Mitt Romney: The 2012 GOP presidential nominee is likely to announce Feb. 15 that he will run for Senate to replace Sen. Orrin Hatch in Utah.
DNC in Alabama: Democrats overstated their spending to support the election of Alabama Democratic Sen. Doug Jones, McClatchy reported. The party spent about $250,000, not the $1 million it previously reported.
The Democratic National Committee has hired Mary Beth Cahill as its interim CEO. Cahill is a longtime Democratic insider who helped lead John Kerry's 2004 presidential campaign.
North Korea: The White House wants more options to deal with North Korea that would allow the U.S. to pursue a military strike.
Climate change and health: The Centers for Disease Control and Prevention plan to cut by 80% spending to prevent global disease outbreaks. The Washington Post reported Thursday that the Trump administration is seeking a more than 70% cut to climate change research.
Sexual harassment: The Arizona House voted to expel Rep. Don Shooter on Thursday over sexual harassment allegations, the first time a state lawmaker has been removed from office over such charges.
Today's MicBite:
After a year dominated by talk of Confederate monuments, Mic imagines a country where black monuments bloom in every state. Kerry Washington, Usher, Common, Yara Shahidi and more share our nominees. Click or tap below to watch.