What Melania Trump wore her 54th week as first lady — when she re-emerged at the State of the Union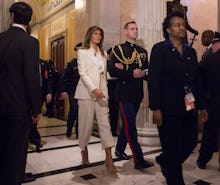 Another week with Melania Trump as first lady, another week seeing her successfully dodge being seen or photographed close to her husband.
In January, the Wall Street Journal reported that the president's lawyer had paid a woman $130,000 to keep quiet about an alleged sexual encounter with Donald Trump just months after Barron Trump was born in 2006. Since then, Melania Trump has stayed far away from her husband, at least publicly, and has released no statement of her own.
The fact she was driven separately to the State of the Union on Tuesday hasn't helped either, given that both Laura Bush and Michelle Obama always arrived in the same car as their husbands.
But nevertheless, she attended the address, smiled and sat there, just like her predecessors.
This is what she wore:
Tuesday, Jan. 30: A white Dior suit to the State of the Union address
To her first State of the Union address as first lady, Trump showed up in a sharp white pantsuit, with the suit from Dior and the blouse from Dolce & Gabbana. Her shoes, unsurprisingly, were Louboutins.
None of those designers are American or manufacture in America, a fact that didn't go unnoticed.
Trump wore American designer Michael Kors to her husband's first speech to a joint session of Congress in February 2017.
Almost immediately, as with any Trump appearance, people were speculating if this suit was a sign. Was the white in recognition of the suffragettes? At the Democratic National Convention in 2016, Hillary Clinton wore a white suit as a nod to the suffragette movement, and it became somewhat of a symbol for feminists and Clinton supporters.
Now here was Trump, attending her first State of the Union in a bright white suit, which stood in stark contrast to many members of Congress in the audience who wore black as a sign of protest.
We will likely never know why Trump wore this outfit, of course, as she remains pretty mum about her personal life.
You can see previous recaps of what Melania Trump wore here.