A new short film proves everyone takes the exact same travel photos on Instagram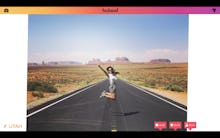 There's nothing wrong with traveling or eating for the Insta. But this video highlights just how unoriginal you are when you recreate the same popular tourist photos, like holding up the Leaning Tower of Pisa in Italy.
Florida-based filmmaker Oliver Kmia uploaded his video titled "Instravel — A Photogenic Mass Tourism Experience" to Vimeo on Tuesday, and it's already been played over 83,000 times. In the video, you'll see stereotypical travel shots — a hand holding a passport, people posing in front of the Eiffel Tower or the Empire State Building, a reflection of someone in their rearview mirror — pieced together into a flip-book that functions as social commentary. Kmia shows we're all essentially taking the same exact photos.
Kmia drew inspiration from an artist named Hiérophante, who created a simiar, flipbook-style video that highlighted social media clichés, like people taking mirror selfies, women in pole-dancing classes and men taking photos of their six-packs.
The travel video was also inspired by Kmia's own experience traveling abroad. When trying to take a photo near the Trevi Fountain in Rome, he couldn't get close enough, he wrote in his video's description.
"Sometime it's impossible to avoid the cliche and there is nothing wrong with that," Kmia said in an email. "As long as people are happy, don't bother anybody and bring a nice memory home, that's great. Being unique and different doesn't necessarily mean you are better." He noted that all wedding photos look the same, yet a wedding is "a unique and happy moment" in a person's life.
"I have nothing against all these people in the video, I'm one of them. It's a little joke. Not a deep social analysis," he continued.
Kmia said he noticed many people were "hooked to their smartphones" during vacation, "as if the ultimate goal of travel was to brag about it online and run after the likes and followers." Yet in an ironic twist, he said he's been "checking his view counts."
If the video has you feeling guilty for posting the same exact photos as other people on vacation, there are plenty of ways to mix it up next time you're on the road. Check out Mic's tips to taking a better photo of the sunset, a more scrumptious snap of your brunch or even a rocking picture of a celestial event like a solar eclipse.
Feb, 2, 2018, 4:15 p.m.: This article has been updated.