While you weren't looking: 5 stories from the Trump administration that aren't about that memo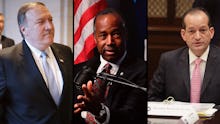 In a week of news cycles consumed by President Donald Trump's State of the Union and a nothing-burger intelligence memo, a lot of actual news flew under the radar — including a high-profile resignation, multiple potential corruption scandals and a sanctioned Russian spy entering the U.S. to meet with Trump intelligence officials.
Here's what you might have missed.
CDC director resigns after buying shares in a tobacco company
One of the top government officials in charge of trying to prevent people from smoking cigarettes resigned after it was reported that she purchased shares in a tobacco company after taking office.
Politico reported that Dr. Brenda Fitzgerald purchased shares in a tobacco company just one month into her tenure as Centers for Disease Control and Prevention director. The CDC oversees major federal anti-smoking initiatives.
On Wednesday, the Department of Health and Human Services announced Fitzgerald's resignation, arguing her "complex financial interests" imposed limits on her ability to complete her duties.
Ben Carson mixes family with official duties
The esteemed neurosurgeon now in charge of the Department of Housing and Urban Development has raised several red flags within the agency by including his family in official HUD business, according to a report in the Washington Post.
Carson reportedly allowed his son, Ben Carson Jr., to help set up a "listening tour" in Baltimore during summer 2017. According to the Post, officials were worried that the younger Carson and his wife were inviting a number of local residents with whom they possibly had business dealings.
HUD officials urged Carson not to include his son in the event — advice Carson apparently ultimately ignored. Since then, Carson's son has continued to accompany him to official HUD events, the Post reported.
Labor Department kills analysis of proposal allowing managers to skim tips
The Department of Labor has reportedly scrapped an internal analysis showing that its new proposal for tipped workers could result in managers pocketing billions of dollars in tipped wages intended for workers.
The analysis was part of the Trump administration's plan to roll back an Obama-era rule regulating tipped wages. The new proposal would allow businesses to pool tips to distribute among tipped and non-tipped employees — including management.
After the analysis found that the proposal could result in large-scale wage skimming, senior Labor Department political officials ordered that the methodology of the analysis be altered to make the data appear more favorable, Bloomberg Law reported. Eventually, the department was granted permission to publish a proposal that did not include the data at all.
Sanctioned Russian spy chief enters U.S. and meets with intelligence officials
In a surprisingly underreported story, the head of the Russian Foreign Intelligence Service reportedly entered the United States and met with U.S. intelligence officials, including CIA Director Mike Pompeo and Director of National Intelligence Dan Coats.
Sergey Naryshkin, the head of the Russian spy agency, was sanctioned by the U.S. government in 2014 in response to Russia's interference in Crimea. Under those sanctions, Naryshkin is not allowed to do business with any U.S. person or company. A visit like the one Naryshkin is reported to have made would typically be prohibited under those sanctions unless special dispensations were made.
U.S. intelligence officials declined to confirm the meeting with Coats to Reuters, which initially broke the story, but his office told the news agency that "any interaction with foreign intelligence agencies would have been conducted in accordance with U.S. law and in consultation with appropriate departments and agencies."
Following the reported meetings, the Trump administration made the decision not to impose a new round of sanctions against Russia, despite overwhelming support for those sanctions from Congress.
Trump administration will not allow any new Syrians to apply for protected status in U.S.
The Associated Press reported that the Trump administration will allow the nearly 7,000 Syrians currently living in the U.S. with temporary protected status to remain, but will not allow any new Syrians fleeing violence in their home country to apply for the program.
The Trump administration has previously argued that the TPS program is being abused and canceled protected status for nearly 200,000 people from El Salvador and more than 45,000 from Haiti, the New York Times reported. When members of Congress attempted to negotiate with Trump to protect individuals from some of those places, Trump reportedly referred to them as "shithole" countries.
While the 7,000 Syrians currently living in the country may breath a sigh of relief that they will not have to depart, the decision not to admit anyone else from the war-torn nation of Syria will likely be met with opposition.
Trump's opposition to Syrian refugees and immigrants was a fixture of his 2016 presidential campaign and warranted hours of attention on cable news channels. Yet his latest decision to keep new Syrians fleeing violence out of the country has gone largely unnoticed.