Federal court rules in favor of felon voting rights in Florida — but it's still an issue nationwide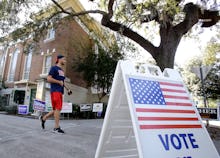 Voting rights advocates in Florida received good news Thursday when a federal judge struck down the state's restrictive process for restoring voting rights to convicted felons.
In a 43-page decision, U.S. District Judge Mark Walker blasted the state's felon voting policies as being overly "arbitrary." Currently, Florida felons have their voting rights permanently revoked; they can only be reinstated by waiting at least five years after completing their sentence and having their case decided by a four-person clemency board led by the state's governor.
Republican Gov. Rick Scott enacted the onerous rules in 2011, overturning a more lenient policy under which many felons could have their rights restored without the panel hearing or application process.
"In Florida, elected, partisan officials have extraordinary authority to grant or withhold the right to vote from hundreds of thousands of people without any constraints, guidelines or standards," Walker wrote in his ruling. "The question now is whether such a system passes constitutional muster. It does not."
While Walker waits until mid-February to hold hearings on how the current process should be remedied, the ruling could have significant implications, particularly given the state's close margins in past presidential elections.
According to the Sentencing Project, Florida had more than 1 million disenfranchised individuals with felony convictions as of 2016, representing 10.43% of the adult population and 21% of the state's black population. The state had the highest number of disenfranchised felons in 2016, making up 27% of the national disenfranchised population and 48% of those disenfranchised post-sentence.
The ruling is the second recent win for Florida voting rights advocates. In January, state officials certified a November ballot initiative that would restore voting rights to felons, excluding those convicted of murder or sexually-based offenses, upon the completion of their sentences. Amendment 4 requires 60% approval to become law.
Striking down the process — not the ban
In his ruling, Walker struck down the state's inefficient and potentially biased process for restoring felons' rights — rather than the ban on voting rights itself.
Noting that it is "well-settled" that a state can legally disenfranchise felons under the 14th Amendment, Walker wrote: "A state may disenfranchise convicted felons. A particularly punitive state might even disenfranchise convicted felons permanently. But once a state provides for restoration, its process cannot offend the Constitution."
Instead, the ruling takes aim at the nature of the process, noting that "restoration cannot be arbitrary" nor based on an individual's partisan leanings, race or other characteristics. The state has unfettered discretion in restoring voting rights, and felons must "conduct and comport herself to the satisfaction of the board's subjective — and, frankly, mythical — standards," Walker wrote.
In his ruling, Walker cited a clemency hearing in which Scott, who had once commented that the clemency board "can do whatever we want," restored a former felon's voting rights seconds after the individual said he had voted for Scott.
The ruling also decried the lack of time limits in restoring rights, recalling a case in which Scott told a 54-year-old man he would have to wait another 50 years to reapply for his rights to be restored. Further, the government panel moves at a glacial pace: Only 3,000 applications have been granted since Scott took office in 2011, compared to 154,000 citizens whose rights were restored in a four-year span under former Gov. Charlie Crist. According to the Tampa Bay Times, the board meets just four times a year and usually approves fewer than 100 cases each time — resulting in a backlog of over 10,000 applications.
"Defendants cannot — whether arbitrarily or motivated by political, racial or religious bias — kick the can down the road for so long that they violate former felons' rights to free association and free expression without offending the Constitution," Walker wrote in his ruling. "Indefinite can-kicking is not some Floridian fairytale like a line-less Space Mountain."
Felon voting rights in other states
Florida represents the most widespread case of felon voter suppression, though it's not the only one to ban their voting rights. Currently, the state is one of four to permanently ban people with felony convictions unless granted approval by the governor, along with Iowa, Virginia and Kentucky. Other states have varied laws on felon voting rights, including reinstating them after incarceration, parole, probation or an additional waiting period. In Maine and Vermont, individuals convicted of felonies never lose their voting rights.
The Florida decision isn't the only recent bit of good news for the advocates on this issue. In 2017, Alabama passed legislation clearly defining the "crimes of moral turpitude" that result in the loss of voting rights, which allowed many to have their voting rights restored. Meanwhile, Wyoming passed a law automatically granting voting rights to non-violent felons. California also passed legislation requiring that information be provided about voting rights restoration to felons exiting prison, and in 2016 legalized voting while incarcerated in county jails.
Other states with bans on felony voting rights have had their challenges, though. The Iowa Supreme Court upheld the state's voting ban in 2016, and after former Virginia Gov. Terry McAuliffe signed an executive order granting voting rights en masse to 200,000 convicted felons, the state Supreme Court overturned the order and ruled he must grant clemency on an individual basis.
Despite the ruling, the Virginia government has taken action to restore felons' voting rights. According to the Huffington Post, McAuliffe had individually restored voting rights to over 168,000 Virginians by the 2017 election in November, and new Gov. Ralph Northam has vowed to continue the effort.
Though Iowa streamlined their application process for restoring felon voting rights in 2016, those convicted of felonies in the state must still face a "challenging" process that costs money and can take up to six months in processing time, the Des Moines Register noted later in 2016. Out of an estimated 14,500 Iowans who had completed a felony sentence between 2011 and 2014, only 64 had their voting rights restored.
Kentucky citizens who have been convicted of felonies also have to face significant government obstruction. Gov. Matt Bevin overturned an executive order in December 2015 made by his predecessor that restored felons' voting rights, saying that the issue "must be addressed through the legislature and by the will of the people."
Though the Kentucky legislature went on to pass a law in 2016 that would make it easier for those convicted of felonies to have their records expunged and their citizenship rights fully restored, the governor has made little progress on restoring voting rights specifically. Bevin waited until April 2017 to make his first voting restoration decisions, according to the Lexington Herald Leader. He restored voting rights to 24 individuals — leaving 1,100 others who had petitioned him still without voting rights.
It remains unclear whether the precedent established by Thursday's Florida ruling could affect policies in Kentucky and other states, although the Brennan Center for Justice notes there's broad bipartisan support backing the restoration of voting rights in Kentucky.
Sen. Rand Paul (R-K.Y.), who has sponsored legislation proposing to restore federal voting rights to some felons, showed support for changing the state's felon voting policies in an interview with Stephen Colbert Wednesday, calling Kentucky "one of the worst states" on felon voting rights.
"I think that it should be about second chances ... I think the law should give you a second chance," Paul told Colbert. "Really, if you look at the people in prison that are sort of making mistakes sometimes, they are making mistakes as young — mostly men, and mostly at a young age. And they should be given a second chance."