Is Marvel's 'Black Panther' the endgame of the revolution that blaxploitation started?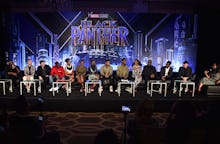 Marvel Studios released the first poster for its upcoming Black Panther film on June 9, 50 years after the infamous photograph it seems modeled after was taken.
The original image features Huey P. Newton, co-founder of the Black Panther Party for Self-Defense. Clad in a black leather jacket and beret, with a rifle in one hand and a spear in the other, Newton glowers at the camera from his wicker chair, surrounded by an assortment of African artifacts.
"The [1967] photo … mocks Western colonialist portraiture — the zebra rug, the unambiguously 'tribal' props in the background," reads a description at the New-York Historical Society Museum & Library's website. "[But] this stops at Newton. … [He] is not an object controlled by Western colonists: He is a crusader against it."
At first glance, it seems the same can be said of T'Challa, the Black Panther, who is captured in an almost identical pose in Marvel's 2017 poster. A king and protector of his fictional African homeland of Wakanda, the character has been the foremost symbol of black self-determination and anti-colonialism in mainstream comics since he first graced Marvel's pages in 1966.
The two images are connected over time and space by blaxploitation — the 1970s film genre that transposed the radical black politics of its era onto a series of garish, low-budget action movies. Born of a desire for revolution, the genre has more often sparked debate about whether it merely exploited its black subjects to line white film producers' pockets.
There's much we can learn about Marvel's Black Panther almost 40 years after blaxploitation faded — including whether it actually makes good on the revolutionary zeal that sparked its predecessors' rise.
All told, blaxploitation stands out as the clearest path between black power politics and the growing popularization of the black action hero in Hollywood today. The parallels between the images of Newton and T'Challa illustrate this link. Both exude a similar sense of defiance. Both push back against the white-centered myth-making that came before them. Both share more than just the panther as a symbol; they share a legacy of storytelling that centers two-fisted black protagonists as masters of their own narratives — albeit narratives that have almost always reserved the richest benefits for wealthy white film executives.
Yet the Panther poster is best understood as promotional material for a multi-billion dollar entertainment company. It adopts the visual language of revolution, but repurposes it to meet Marvel's bottom line. To understand how this seeming contradiction came about, a history lesson is in order. It begins in the late 1960s and early 1970s — as much a watershed moment for auteur-driven cinema as it was for anti-establishment politics and the continuing struggle for black liberation across the globe.
It was a time when African countries were either throwing off the shackles of European colonialism or establishing new nations in its wake; when the nonviolent tactics of Martin Luther King Jr.'s iteration of the Civil Rights movement were giving way to the more militant armed resistance of the Black Panthers; and when a new generation of young, almost exclusively white and male filmmakers — Martin Scorsese, Francis Ford Coppola and Robert Altman among them — were handed the reins of a Hollywood machine that had bloated and almost collapsed under its own excess.
These filmmakers met the challenge by flooding the market with a slew of personal, formally innovative and youth-oriented films. Melvin Van Peebles found himself at the nexus of these movements. An ex-Air Force man who also spent time as a painter and novelist in Mexico, Europe and San Francisco, Van Peebles was the sort of Renaissance figure for whom the world of early American independent film was an ideal fit. In 1970, he set out to make the first black power movie. Pouring his own money into the project and casting himself in the lead role, Van Peebles wrote, directed, produced, edited and composed the music for Sweet Sweetback's Baadasssss Song (1971) — an action thriller about a black sex worker who beats unconscious two LAPD officers after he sees them roughing up a young member of the Black Panther Party.
Sweetback spends the rest of the movie on the run from the law. In the end, he gets away with his crimes. The cultural impact of the film reverberated across black America. According to the New York Times, Sweetback was made for an estimated $500,000 but grossed more than $10 million at the box office, single-handedly demonstrating the staggering earning potential of low-budget indie films, particular those aimed at black audiences.
Van Peebles played up the pro-black, anti-establishment leanings of the project in its promotional materials, claiming on posters that the film had been "rated X by an all white jury," and including a title card that read, "Starring the Black Community" in the opening credits. Huey P. Newton himself was moved by the film's message, and made it required viewing for members of his organization.
"[Sweetback] presents the need for unity among all members and institutions within the community of victims," he wrote in an essay shortly after its release.
But Sweetback is perhaps most famously credited with kickstarting the genre known as blaxploitation. Largely dispensing with the explicit political stance that made Van Peebles' film such a hit with the Panthers, the movies that followed it set their sights on a different goal: to churn out as many low-budget black action movies as possible, often set in decaying urban environs and peppered liberally with sex and bloody violence, for a significant profit. The revolution, it seemed, would be monetized. And the white-run companies that produced its films — like the low-budget production house American International Pictures — would reap the lion's share of the profits.
The results, nevertheless, were some of the most iconic, influential and successful movies of the era: references to Shaft (1971), Super Fly (1972), Coffy (1973), Black Caesar (1973) and The Mack (1973), to name a few, are still peppered through American cinematic and musical culture today. The qualities that set these films apart from older Hollywood products are manifold. But one of the starkest — and most relevant, in the context of Marvel's Black Panther film — was their creation of self-contained black worlds that existed largely in opposition to the bigger white worlds they existed within.
Plots in these films hinged on black protagonists violently dispatching white villains — "the Man" — or otherwise navigating the violence that white power imposed upon their surroundings. Even their heroes' names — Foxy Brown, Blacula, Slaughter, Cleopatra Jones — boasted an outlandish, near-superheroic emphasis on strength, sexuality and blackness.
Though the Black Panther comic predates blaxploitation by roughly half a decade, most current iterations of T'Challa and Wakanda — including those in the upcoming film — bear these traits and more of blaxploitation's distinct influence. The worlds they both portray are largely inaccessible to white people. They operate by their own laws, cultural norms and languages. They feature protagonists as fluent in using their fists as their wits, and who are singularly driven by the pursuit of self-determination, a central tenet of the Black Power movement that inspired early blaxploitation.
It goes without saying that these films also starred black performers, and launched the careers of several black movie stars, most notably Pam Grier. Behind the scenes, some, if remarkably few of them, were helmed by black directors as well — a rarity for the era, then as today. Aside from Van Peebles, Gordon Parks helmed Shaft, while his son Gordon Parks Jr. directed Super Fly.
Perhaps most famously, blaxploitation films presented new ways of looking at the movie soundtrack, recruiting some of the era's most popular black musicians to score them — names like James Brown, Curtis Mayfield, Earth Wind & Fire and Marvin Gaye. In a seeming nod to this legacy, Kendrick Lamar is executive producing and features prominently on the soundtrack for Black Panther. Ryan Coogler, of Creed and Fruitvale Station fame, is directing the film, while Ruth Carter is designing the costumes. All three are black, as is most of the cast.
In many ways, Black Panther has taken the blueprint blaxploitation laid out and projected it onto a massive scale, both in terms of production value and prestige. Yet a major question that still hovers over the blaxploitation era nearly 50 years later dogs Marvel's film as well, which hits theaters on Feb. 16. It is a question of power and representation. Power was a predominant theme in blaxploitation films. And the sense of empowerment that accompanies increased black representation on screen has fueled the hype around Black Panther. But both were produced by white-run studios that, by virtue of their place in the production chain, likely earned several times more money from these films' successes than their black subjects ever did.
It is eminently worth unpacking the extent to which these projects have truly revolutionized how black creatives, black characters and, by extension, black people, are truly being empowered by the film industry — or if their white benefactors are merely using the visual language of revolution to line their own pockets. The answer seems to be a bit of both. Black Panther is already on track to shatter ticket pre-sale records, and the financial windfall that seems imminent will likely grant abundant new opportunities for all of the black actors and filmmakers involved. The primary aim of today's calls for diversity on screen and behind the camera seems to hinge on the simple goal of providing more work anyway. It seems likely that Black Panther could yield such benefits.
Perhaps this is the most lasting legacy of blaxploitation today. It may not be a full-blown revolution. But maybe it was never intended to be.