Tegan and Sara's camp questions the intent behind Grammys plan for "female advancement"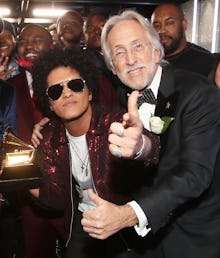 The Grammy Awards announced plans on Thursday to form an "independent task force" dedicated to addressing gender bias within the music industry after Recording Academy president Neil Portnow's suggestion that female artists should "step up."
In a response to the Friday announcement, Piers Henwood, a manager for indie duo Tegan and Sara, said that it's "difficult to know the intention behind the task force."
"There's a public relations battle here for Neil and the Grammys, and this task force could be perceived as tokenism," Henwood said in an emailed statement, before referencing an open letter from female music executives calling for Portnow's resignation. "This latest letter written by some leading female executives calling for Neil to step down shows that a task force may not be enough to restore faith in leadership. And then whatever the cosmetic response, the real question is what are the belief systems underlying these institutions."
In his statement announcing the task force, Portnow acknowledged that his "step up" comments had made existing complaints that Sunday's Grammy Awards had been too male-centric much worse.
After hearing from many friends and colleagues, I understand the hurt that my poor choice of words following last Sunday's GRAMMY telecast has caused. I also now realize that it's about more than just my words. Because those words, while not reflective of my beliefs, echo the real experience of too many women. I'd like to help make that right.
The Recording Academy is establishing an independent task force to review every aspect of what we do as an organization and identify where we can do more to overcome the explicit barriers and unconscious biases that impede female advancement in the music community. We will also place ourselves under a microscope and tackle whatever truths are revealed.
I appreciate that the issue of gender bias needs to be addressed in our industry, and share in the urgency to attack it head on. We as an organization, and I as its leader, pledge our commitment to doing that. We will share more information about the steps we are taking in the coming weeks.
The skepticism over whether the creation of the task force was a good-faith action by the academy or just optics came after a flurry of outraged responses to Portnow's initial comments. Although the CEO had issued an apology earlier in the week, claiming that his remarks had been "taken out of context," the damage was already done. By Monday, women from all corners of the music industry — including Pink, Halsey and Katy Perry — had fired back at the academy CEO.
In a Twitter response, Sheryl Crow wrote that calling on women to "step up" had been "a strangely insensitive thing to say, particularly at this juncture of women standing up for themselves ... demanding equality and fairness."
Singer Vanessa Carlton spearheaded a campaign urging Portnow to step down as president; as of Friday, the petition hovered at roughly 500 signatures shy of its 14,000 signature goal. (A rep for Carlton declined to comment on Thursday's announcement.)
In that open letter published on Thursday, female executives from across the music industry also called on Portnow to resign.
"The statement you made this week about women in music needing to 'step up' was spectacularly wrong and insulting and, at its core, oblivious to the vast body of work created by and with women," the women wrote. "We step up every single day and have been doing so for a long time. The fact that you don't realize this means it's time for you to step down."
The Grammys isn't the first awards institution that's been prompted to make changes in order to address concerns about diversity in recent years. In 2016, the hashtag campaign "#OscarsSoWhite" caused the Academy of Motion Picture Arts & Sciences to directly address why, for the second year in a row, no actors of color had been nominated for the ceremony's top awards.
While praising the work of the all-white panel of performers nominated that year, then-Academy President Cheryl Boone Isaacs said in a statement that she was also "both heartbroken and frustrated about the lack of inclusion." 
"This is a difficult but important conversation, and it's time for big changes," she said. "The Academy is taking dramatic steps to alter the makeup of our membership. In the coming days and weeks we will conduct a review of our membership recruitment in order to bring about much-needed diversity in our 2016 class and beyond."
After being hampered for years with similar complaints about a lack of diversity, it makes sense that the Grammys' top brass is cribbing from the Oscars' playbook. If recent attendance and viewership numbers are anything to go by, the Grammys are already paying the price for being out of touch.