Fox News receives first excerpts of controversial GOP memo, fueling the partisan fire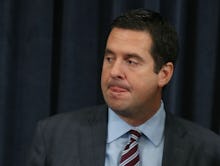 President Donald Trump on Friday authorized the release of a now-declassified memo from a top House Republican, which alleges that the FBI and the Department of Justice relied on the controversial Fusion GPS dossier to obtain a surveillance warrant against former Trump campaign aide Carter Page.
Trump called the findings of the memo "a disgrace" and told reporters at the White House that,"a lot of people should be ashamed of themselves."
Excerpts were first provided to Fox News exclusively — feeding the narrative that the memo is a partisan document meant to protect Trump from special counsel Robert Mueller's investigation. The network released the excerpts approximately half an hour before the full memo was released Friday afternoon.
"Not a good look by the House GOP to release cherry picked excerpts through friendly media outlets in order to build a narrative," tweeted Chuck Todd, host of NBC's Meet the Press. "Only reinforces the partisan look to all this. A truly nonpartisan act would have been a complete release without cherry picks."
The FBI was against the memo's release, saying the document leaves out key facts that "fundamentally impact the memo's accuracy." The bureau was swift to react to the release on Friday.
"FBI special agents have not, and will not, allow partisan politics to distract us from our solemn commitment to our mission," FBI Agents Association president Thomas O'Connor said in a statement.
Some of those omissions are instantly apparent.
For example, one of the key claims of the memo is that the FBI and DOJ did not say that the dossier — which they used in part to obtain a surveillance warrant against Page — was partly financed by Democrats, including Hillary Clinton's campaign. However, the memo leaves out the fact that the dossier was first paid for by a Republican donor, hedge fund billionaire Paul Singer.
The memo does not say whether any other intelligence was also used to obtain the surveillance warrant against Page, who according to the Wall Street Journal had been on the intelligence community's radar since 2013.
Meanwhile, Democrats and even some Republicans have panned the memo as a partisan document intended to shield Trump from the federal investigation that's gotten closer to the president himself.
Sen. John McCain (R-Ariz.) said in a statement that the memo amounts to partisan attacks on the FBI and DOJ.
"Our nation's elected officials, including the president, must stop looking at this investigation through the warped lens of politics and manufacturing partisan sideshows," McCain said. "If we continue to undermine our own rule of law, we are doing Putin's job for him."