2018 Winter Olympics: Australian snowboarder Belle Brockhoff is also an LGBTQ rights activist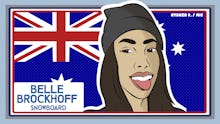 During the Winter Olympics, Mic is tracking a group of athletes who are smashing records and breaking boundaries. To follow the coverage, visit our Olympics hub.
Name: Belle Brockhoff
Belle Brockhoff's kind of a badass. She became a celebrity in her home country of Australia after coming out on national television in protest of Russia's anti-gay laws. Back in 2013, she told the Australian Broadcasting Corporation she wanted to take a stand for her fellow gay athletes.
"I want to be able to be who I am, be proud of who I am and be proud of all the work that has gotten me to the Olympics and not have to deal with this kind of a law," she told the ABC. She was also a member of Principle 6, a group of athletes formed to promote LGBT inclusion that's named for a Olympic Charter's anti-discrimination clause.
In an exclusive email interview with Mic, Brockhoff said it was important for Olympians to use the world stage to promote and inspire excellence — but also to call attention to the topics that are important to them.
"We have this unique opportunity as athletes to inspire others from a world stage, especially at the Olympics, where we don't just represent ourselves but our country, our family, friends and people we don't even know," she said. "Whilst being on the world stage, I believe it's important to inspire people to be their best and create awareness around certain topics."
She's always been drawn to her high-adrenaline, sometimes aggressive sport: "My mum bought a snowboard when I was 9 and I immediately wanted one," Brockhoff said. "It's definitely an adrenaline sport and at times [it] can be aggressive, but it's so much fun. I also get the adrenaline rush watching past races, too."
In Pyeongchang, Brockhoff said she hopes to represent not just herself and her country, but also her fellow injured athletes. In what could have been a death-blow to her Olympic ambitions, Brockhoff tore her ACL during a run back in March. She was able to return to the snow by December, but then crashed again during a race in Val Thorens, France.
Brockhoff ended up placing 10th, an impressive result considering her injury meant she had just a few weeks on the snow ahead of the Olympics. She last raced in Pyeongchang two years ago for the test event, where she placed first in the time trials before crashing in a qualifying heat. She also placed first in her event at the 2017 World Cup in Bulgaria. Altogether, she's competed in 32 World Cup events to date, according to the Australian Olympic Commission, earning three gold medals in the process.
When to watch Belle Brockhoff compete:
Brockhoff placed fifth in the women's snowboard cross small final, and tenth overall.
Feb. 15, 2018, 11:03 p.m. Eastern: This story has been updated.