Adam Rippon is the first out gay American athlete to medal at the Winter Olympics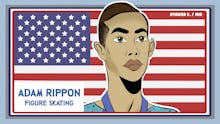 During the Winter Olympics, Mic is tracking a group of athletes who are smashing records and breaking boundaries. To follow the coverage, visit our Olympics hub.
Name: Adam Rippon
Figure skater Adam Rippon made his Olympic debut on Sunday evening Eastern, performing his free skate routine to contribute to Team USA in the figure skating team competition. Rippon skated a near-perfect performance to Coldplay's "O." He placed third in the men's free skate, ultimately helping the American team snag the bronze medal. After performing his short program on Feb. 15 and his free skate on Feb 16., Rippon finished in 10th place overall.
When it comes to figure skating at the Winter Olympics, American women have historically attracted the most attention. But one outspoken and relentlessly fresh male skater is poised to be this year's darling of the figure skating world, and he's made waves even before hitting the ice in Pyeongchang, South Korea.
On Jan. 7, when 28-year-old Adam Rippon qualified to compete for the U.S. in Pyeongchang, he became the first out gay man on Team USA in the history of the Winter Olympics. (He was followed shortly after by freestyle skier Gus Kenworthy.) But Rippon's Olympic journey began like most — with rigorous training and immense family support. When Rippon was 10 years old, his mom, a single mom of five kids at the time, would drive him three hours from his home in Scranton, Pennsylvania, to a rink in New Jersey.
Rippon isn't afraid to speak out about issues, like LGBTQ rights, that are close to his heart. Case in point: his cheeky Twitter feed. Peruse Rippon's tweets and for a sense of his potential tagline when he's eventually a guest on Bravo's Watch What Happens Live — "my blades are sharp but my tongue is sharper." You'll learn he likes to post shirtless thirst traps. You'll learn he has "nothing to say to Mike Pence," who's slated to lead the U.S. delegation in South Korea.
"The VP has had little effect on my own life. I didn't speak up for myself, I spoke up because it's important to give a voice to those who feel they don't have one," Rippon wrote in a thread addressing his disdain for Pence leading the delegation.
Rippon came out publicly when he was 25 years old. He told NBC that coming out made him a better athlete. Though Rippon's Team USA teammate, Nathan Chen, is heading to the Games as the American man who has a chance to medal, anything can happen, and Rippon has a flair for comebacks. He recovered from a foot injury last year and was chosen to represent the U.S. because of his strong international performances.
"I was always a good skater, but people were like, 'Oh, Adam is a bit of a head case, he isn't consistent,'" Rippon said of his reputation before he came out. "But how can you be consistent and go out and show the judges who you are when you don't know who you are?"
Feb. 20, 2018, 3:54 p.m.: This article has been updated.
Correction: Feb. 12, 2018