Chloe Kim leads the halfpipe qualifier, could be the youngest female snowboarder to win Olympic gold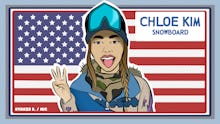 During the Winter Olympics, Mic is tracking a group of athletes who are smashing records and breaking boundaries. To follow the coverage, visit our Olympics hub.
Name: Chloe Kim
Chloe Kim debuted at the Olympics on Sunday in the halfpipe qualifier. The 17-year-old finished with the top score of 95.50. Liu Jiayu of China had the second-highest score, clocking in at 87.75.
It appears that between Kim's first and second runs she tweeted about craving ice cream. (For the record, she tweeted that cookies and cream is a favorite flavor.) All eyes will be on this American snowboarder when she performs in the finals Monday.
Kim made history when she launched herself off the side of the SuperPipe at the X Games in January 2017. By hitting back-to-back 1080s (two triple spins) and winning gold in the SuperPipe, she became the first X Games athlete to win four golds before turning 18.
If Kim, who is 17, puts down the flawless performances she's known for at the Winter Olympics, she could become the youngest female snowboarder to win Olympic gold. Although Kim qualified for Sochi in 2014, she was too young to compete. Now that she's finally of age (the minimum is 15), all eyes will be on the 5-foot-5-inch phenom when she glides into the SuperPipe and onto televisions across the world.
The Korean-American, who grew up in California, was encouraged to pursue the sport by her father, Kim Jong Jin, and she's been hitting the slopes since she was four.
"By the time I was six I would blow down the mountain and be sitting at the bottom of the lift, waiting for my dad to do all of his dainty turns and come meet me," Kim told Sports Illustrated.
Her smooth style and big tricks have many news outlets calling her a "prodigy" and Sports Illustrated, Vogue and the Los Angeles Times have referred to her as "the Shaun White of snowboarding," because she's the only athlete since White to score a perfect 100 at the U.S. Snowboarding Grand Prix.
But while White is nearing the end of his successful career, Kim is just starting out. Her spunky attitude comes through on Instagram, where she often posts about food, especially sweets and fast food. She's caught the eye of junk food companies, too — Oreo is one of many to hop on the Chloe Kim bandwagon.
When to watch Chloe Kim compete:
Women's halfpipe qualifier, Feb. 11 at 11:30 p.m. Eastern
Correction: Feb. 12, 2018