Trump slams Russia probe as "American disgrace," says Nunes memo "vindicates" him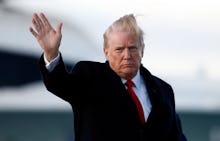 President Donald Trump tore into the so-called "Russian Witch Hunt" on Saturday, claiming that the controversial memo by House Republicans released a day earlier "vindicates" him.
"Their [sic] was no Collusion and there was no Obstruction," Trump tweeted. "This is an American disgrace!"
The unhinged tweet came a day after he authorized the release of a four-page report by Rep. Devin Nunes (R-Calif.), which supposedly details misconduct on the part of the FBI and the Department of Justice.
According to Nunes, federal law enforcement officials improperly relied on the explosive dossier by ex-British spy Christopher Steele to obtain surveillance warrants on Carter Page — a Trump campaign aide who met with Russians in 2016.
But it omitted critical information and painted an incomplete picture of the Foreign Intelligence Surveillance Act requests, experts said, and key elements of the document have already been contradicted by United States officials. Further, the memo itself seems to acknowledge that the Russia probe began not with the Steele dossier, but with drunken comments campaign aide George Papadopoulos made to an Australian official in 2016.
Still, the document predictably became a rallying point for Trump and his allies — including Sean Hannity, who on Friday night called for special counsel Robert Mueller's probe to be ended and for the Trump advisers already brought down by it to have their charges dropped.
"If we care about the Constitution, if we believe in civil liberties, if we believe in those protections, then the special counsel must be disbanded immediately," Hannity said on his Fox News program Friday.
Trump and his Republican allies have been ramping up their war on the Mueller investigation since December, when former national security adviser Michael Flynn pleaded guilty to lying to FBI agents about his Russia contacts.
They've seized on the anti-Trump text messages a former member of Mueller's team sent to a colleague as evidence of partisan bias among investigators, and suggested that federal law enforcement inappropriately surveilled the Trump campaign.
But critics, including some Republicans, have shot back that the president is attempting to undermine the investigation, and on Friday warned him that firing Rod Rosenstein — the deputy attorney general named in the memo — or Mueller would be considered an "attempt to obstruct justice."
"Firing Rod Rosenstein, DOJ leadership, or Bob Mueller could result in a constitutional crisis of the kind not seen since the Saturday Night Massacre," Democratic leaders wrote in a letter to Trump, referring to Richard Nixon's infamous attempt to subvert the Watergate probe in 1973.
Trump, however, left open the possibility of terminating Rosenstein in comments to reporters Friday after he declassified the memo.
"You figure that one out," he said.
The president on Saturday also took to Twitter to tout a new Rasmussen poll that showed an increase in his approval ratings following his State of the Union address Tuesday, bashing the press for what he described as a lack of coverage.
"Why does the media refuse to write this?" he tweeted. "Oh well, someday!"
Many media outlets are wary of using Rasmussen polls, which skew conservative and rely on questionable methods to arrive at their findings.
The 49% approval Trump enjoys in the new Rasmussen poll is markedly higher than, say, the 38% approval he had in the most recent Gallup daily approval tracker.