Nunes didn't read FISA material he used to attack Russia investigation in controversial memo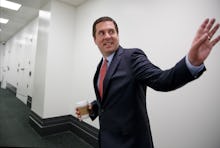 Rep. Devin Nunes (R-Calif.) — the chair of the House Intelligence Committee — did not personally review the material that formed the basis of his disputed memo, he told Bret Baier in a Fox News interview Friday night.
Nunes — who has been the face of the Republican investigation into supposed abuses at the FBI and Department of Justice — was asked if he'd read the Foreign Intelligence Surveillance Act applications he said in his four-page report improperly relied on the explosive dossier compiled by former British spy Christopher Steele.
"No, I didn't," Nunes said.
According to Nunes, the material was read by Rep. Trey Gowdy (R-S.C.) and relayed back to him as part of an agreement his panel set up with the DOJ. He said he wrote the four-page memo with Gowdy and his investigators, describing accusations from Rep. Adam Schiff (D-Calif.) late last week that he hadn't reviewed the FISA material as "bogus."
"The chairman never bothered to go read these underlying materials after months and months of making this argument that the FBI and DOJ are engaged in some conspiracy," Schiff, the top Democrat on the Intelligence Committee, told CNN on Sunday. "He didn't even bother to read the materials himself."
The memo — which was released Friday — alleges that federal law enforcement abused its surveillance power in obtaining FISA warrants against Trump campaign aide Carter Page and that high-ranking officials, including deputy attorney general Rod Rosenstein, signed off on it.
President Donald Trump reportedly believed the memo would help him undermine special counsel Robert Mueller's Russia probe, and on Saturday morning said the report "vindicates" him in what he described again as a "witch hunt."
But critics say the Republican memo is missing vital information and have warned Trump not to use the document as a pretext for firing Rosenstein or Mueller, saying that doing so would trigger a "constitutional crisis."
Democrats have pushed for the release of a response memo that would provide more context to the Nunes report, but Republicans have so far blocked its release.
Nunes told Fox News on Friday that he would allow the release of the Democrats' memo, but wouldn't say when and attacked his counterparts on the committee as "not honest actors."
It's unclear so far how much the memo will help Trump and his allies.
Though it may help the president muddy the waters of the already complex Russia probe, the memo also confirms that the investigation began not with the Steele dossier, but with drunken comments made by George Papadopoulos to an Australian official in 2016. Additionally, its central claim — that officials failed to disclose possible partisan motives on the part of Steele — has already been disputed by United States officials.
It also may cause political headaches for Nunes, whose Democratic opponent in the upcoming 2018 midterms — Andrew Janz, a deputy district attorney — raised more than $100,000 in the days leading up to the memo's controversial release.
"Our dramatic increase in contributions is a direct reflection of Nunes's actions," Janz campaign manager Heather Greven told the Hill.
As for Trump's hope that it'll dilute or kill the Mueller investigation, it's not super clear that he'll get his wish.
Gowdy — who Nunes said reviewed the FISA material on his behalf — said Friday that while the memo "raises serious concerns" for him about the FISA process, he remains "100 percent confident" in Mueller.
"The contents of this memo do not — in any way — discredit his investigation," Gowdy said.