In wake of memo, Dems warn of looming constitutional crisis as GOP disagrees on Trump vindication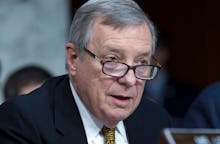 The release of a Republican-crafted memo by the House Intelligence Committee has sparked new fears that President Donald Trump will use its contents to fire the men overseeing his investigation — a move that one Democrat warned could have dire consequences.
In an interview on CNN's State of the Union Sunday, Sen. Dick Durbin (D-Ill.) warned that using the memo as justification to kill the ongoing investigation into potential collusion between the Trump campaign and Russia could "precipitate a constitutional crisis."
The memo, which makes claims about the FBI using the controversial Steele dossier as evidence to obtain a FISA warrant for Trump associate Carter Page, was released Friday by House Republicans over objections by Democrats, the FBI and Department of Justice, who claim the report is inaccurate and have called its release "extraordinarily reckless."
"To say that this is the end of the investigation, that this is all that Donald Trump needs to fire [Rod] Rosenstein or fire Bob Mueller, I'll just tell you: This could precipitate a constitutional crisis," Durbin said Sunday.
"If the House Republicans believe they've set the stage for this president to end this investigation, they are basically saying that in America, one man is above the law, and that's not a fact. We've got to make sure that we explore all the possibilities and all the evidence," he continued.
Trump has pointed to the memo as evidence of his innocence, tweeting Saturday that it "totally vindicates 'Trump' in probe."
Durbin disagreed with that assessment Sunday, responding to host Jake Tapper's question of whether the report vindicates Trump by saying, "No, of course it does not."
"The fact that the Republicans in the House refuse to allow a minority report, the Democratic response to their memo, is an indication that they're bound and determined to continue to find ways to absolve this president from any responsibility," Durbin continued. "I agree completely with John McCain; it was John McCain who said, 'Trying to undermine the FBI and the Department of Justice is really not in the best interest of America, and frankly it's doing Putin's work.' We ought to be trying to focus on an investigation at a professional level by Bob Mueller and not trying to find a way to obstruct justice or to absolve this president from any responsibility he has."
Even Republicans who voted in favor of the memo's release agreed Sunday that the president's claims about the memo's power to exonerate him were not true. On ABC's This Week, Rep. Will Hurd (R-Texas) said, when asked by host George Stephanopoulos whether he thinks the memo vindicates Trump, "I don't."
"I don't agree with some of my colleagues that...[are] always using the [word] 'explosive,'" Hurd said.
Rep. Brad Wenstrup (R-Ohio), too, said on CNN Sunday that the Russia investigation was a "separate issue" from the concerns raised by the memo, which he believed is significant for raising concerns over "a situation within our FISA court and how we process within our government agencies."
"I don't think it really has anything to do with [Mueller's investigation]," Wenstrup said Sunday.
The Ohio congressman added that he does not believe that the memo "provides some sort of pretext" for firing Mueller or Rosenstein, telling Tapper that he "support[s] the Mueller investigation."
Another prominent Republican to disagree with Trump's assessment was Rep. Trey Gowdy (R-S.C.), who said on CBS's Face the Nation Sunday that he doesn't "think [the memo] has any impact on the Russia probe."
"There is a Russia investigation without a dossier," Gowdy said Sunday. "So to the extent the memo deals with the dossier and the FISA process, the dossier has nothing to do with the meeting at Trump Tower. The dossier has nothing to do with an email sent by Cambridge Analytica. The dossier really has nothing to do with George Papadopoulos' meeting in Great Britain. It also doesn't have anything to do with obstruction of justice. So there's going to be a Russia probe, even without a dossier."