Report: After wave of backlash, Justin Timberlake won't perform with Prince hologram at Super Bowl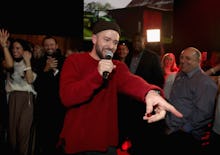 Justin Timberlake will take the stage Sunday night for the Super Bowl halftime show — but contrary to previous reports, he won't be joined by another music legend.
Though Timberlake has denied his performance would feature special guests like his NSYNC bandmates or his former Super Bowl partner Janet Jackson, TMZ reported the halftime performance would feature an unusual costar: a hologram of the late music icon Prince. The news sparked a wave of backlash, including from Prince's own family, who said on Twitter it did not authorize the hologram.
But in the wake of the outcry, it seems that the decision has now been reversed: After speaking out against the hologram news, frequent Prince collaborator Sheila E said on Twitter Saturday night that she had spoken with Timberlake and confirmed "there is no hologram."
The tweet was echoed by Minneapolis journalist Iris Pérez, who cited sources saying Timberlake's performance would "involve more of an homage [to Prince] than anything else."
Timberlake has spoken about his respect for Prince, although the two publicly sparred over Timberlake's 2006 hit "SexyBack." Prince reportedly said at a post-Emmy Awards party, "For whoever is claiming that they are bringing sexy back, sexy never left!"
If Prince had appeared in hologram form during the Super Bowl, it would have run counter to the singer's own wishes. Prince spoke out against the use of digital versions of past artists in a 1998 interview with Guitar World, calling the practice "demonic."
"Certainly not," Prince said when asked if he would consider performing with a past artist. "That's the most demonic thing imaginable. Everything is as it is, and it should be. If I was meant to jam with Duke Ellington, we would have lived in the same age. That whole virtual reality thing...it really is demonic. And I am not a demon."