Prince fans aren't happy about Justin Timberlake's Super Bowl performance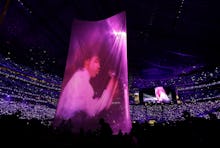 Justin Timberlake returned to the Super Bowl halftime stage Sunday, performing a predictable medley of hits — from his early solo days to his recent Man of the Woods single "Filthy." Timberlake also paid tribute to Prince during his set, by projecting a video image of the late singer and purple lights onto a sheet. As Prince's "I Would Die 4 U" played, Timberlake sang and played a piano along to the Purple One's voice.
On the whole, the halftime performance received mixed reactions on Twitter. Some loved Timberlake's willingness to move around the stadium and interact with the crowd while singing and dancing to his best-known songs. But others were not happy about J.T. singing along to Prince's song. And how'd they express their displeasure? By using hilariously shady Prince GIFs, naturally.
In advance of the performance, rumors circulated that Timberlake was going to actually perform alongside a hologram of Prince. This was met with backlash, but longtime Prince collaborator Sheila E. ended the speculation via Twitter Saturday.
Many of Prince's defenders are critical of Timberlake for one of two reasons. One is the beef that the two had back in the mid-aughts. Prince reportedly made fun of Timberlake's hit "SexyBack" at a post-Emmys party in 2006, saying, "For whoever is claiming that they are bringing sexy back, sexy never left!" In response, Timberlake dissed Prince on his 2007 track "Give It to Me."
We missed you on the charts last week
Damn, that's right you wasn't there
Now if se-sexy never left, then why is everybody on my shi-i-it?
Don't hate on me just because you didn't come up with it
Another reason Prince fans are taking offense is the late icon's distaste for holograms. Although Timberlake didn't actually use a hologram, to some, his use of a projected image of Prince was still in violation of what the Purple One would have wanted. Prince told Guitar World in 1998 that he was totally against the idea of performing with a past artist.
"Certainly not," answered Prince. "That's the most demonic thing imaginable. Everything is as it is, and it should be. If I was meant to jam with Duke Ellington, we would have lived in the same age. That whole virtual reality thing ... it really is demonic. And I am not a demon."
Prince's fans were not the only ones expressing disapproval of Timberlake's Super Bowl performance. Janet Jackson's fans are also still upset with Timberlake because of his role in the infamous "wardrobe malfunction" during their joint performance at the 2004 Super Bowl halftime show. On the day of the 2018 Super Bowl, Jackson supporters used the trending hashtag #JanetJacksonAppreciationDay as a way to protest Timberlake's halftime set and also honor her legacy in music.