Don't like football or Justin Timberlake? Celebrate #JanetJacksonAppreciationDay instead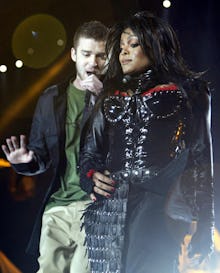 During Sunday night's Super Bowl, karmic justice for pop superstar Janet Jackson was out in full force.
Back in 2004, Justin Timberlake infamously exposed Jackson's breast during the Super Bowl halftime show. Timberlake's career was relatively unaffected by the controversy, but Jackson's was greatly hindered.
Sunday night, Timberlake returned to the Super Bowl halftime stage — without Jackson. But in her absence, Twitter users took the opportunity to celebrate Jackson's decades-long career in pop music using #JanetJacksonAppreciationDay.
Soon after Timberlake was announced as Sunday's halftime performer in October, the hashtag #JusticeForJanet took off, but it appears the idea for #JanetJacksonAppreciationDay was first started by Twitter user @MatthewACherry on Friday.
Shortly after the game started Sunday evening, the hashtag was already in Twitter's top trending topics. Celebrities like Gabourey Sidibe, Laverne Cox, W. Kamau Bell and Janelle Monáe were among those chiming in to share the love.
April Reign, the creator of the #OscarsSoWhite hashtag, tweeted in support of Velvet Rope, Jackson's sexually charged 1997 Grammy-winning album.
Others shared their favorite dance moves and memories of late-night music video viewing parties.
There's always next year's Super Bowl, Janet.