Donald Trump just attacked a health care system he's repeatedly praised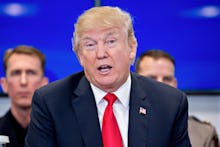 On Monday morning, President Donald Trump lobbed a bizarre new attack on Democrats who are pushing for a single-payer health care system, and in doing so attacked one of the only extant national health care systems he's ever really supported.
In an early morning tweet, the president wrote, "The Democrats are pushing for Universal HealthCare while thousands of people are marching in the UK because their U system is going broke and not working. Dems want to greatly raise taxes for really bad and non-personal medical care. No thanks!"
Trump's criticism was off for a number of reasons.
For starters, the demonstration he referred to was actually a Saturday march in support of the U.K.'s single-payer system, the National Health Service (NHS). U.K. citizens rallied in London to protest their conservative government's decision not to fund the popular program adequately.
Demonstrators chanted slogans like "Keep your hands off our NHS," and "More staff, more beds, more funds" to show their support for the U.K.'s single-payer system.
What's even stranger about Trump's tweet is that the U.K.'s NHS has historically been his favorite example of a functioning, well-run national health care system.
Since 2016, Trump's long history of praising single-payer health care has been a talking point. Trump has previously singled out the health care system in Scotland, where he owns two major golf course resorts. Scotland is, of course, part of the United Kingdom.
In a 2015 appearance on the Late Show with David Letterman, Trump offered an anecdote praising the U.K.'s NHS.
"A friend of mine was in Scotland recently," Trump said. "He got very, very sick. They took him by ambulance and he was there for four days. He was really in trouble, and they released him, and he said, 'Where do I pay?' And they said, 'There's no charge.' Not only that, he said it was like great doctors, great care. I mean we could have a great system in this country."
Trump even continued to praise the U.K. health care system into the Republican presidential primary. At a GOP presidential debate in August of 2015, Trump said that single-payer health care "works incredibly well in Scotland" and said that it could have worked well in the United States "in a different age."
Now, Trump appears to have changed his tune on how well the health care system in Scotland works. Or he has no idea that Scotland is part of the U.K.