Is the Democratic advantage in the 2018 elections narrower?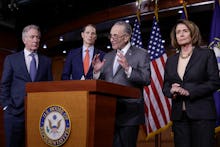 Welcome to Mic's daily read on Donald Trump's America. Want to receive this as a daily email in your inbox? Subscribe here.
Monday's dispatch: Is the advantage for Democrats narrowing?
Though this may be the best nonpresidential election year for Democrats since 2006, predictions have shifted away from an impending blue wave. History suggests it's far too early to know whether polling shifts and cash advantages 10 months before the election will affect 2018's final results.
January saw the first positive trend of polling numbers for Republicans in months. Support for the GOP tax plan, deeply underwater around the time of its passage in December, has seen an uptick, as tax breaks showed up in voters' recent paychecks. The Democratic lead over Republicans in the generic congressional ballot has now narrowed, and an ABC News/Washington Post poll shows the Democratic margin comes from a wide lead in districts already held by the party. Meanwhile, Republicans hold a narrow lead in districts they control.
Multiple polls show President Donald Trump's approval rating is ticking up. Despite Democrats' deep disapproval of Trump, his State of the Union speech received high marks, with a combined 62% of viewers saying it was "excellent" or "good," according to a Morning Consult/Politico poll.
However, just as Republicans are pointing to positive trends, Democrats have a host of data that continues to support their notion that they can win the House and other key races in November.
House Democrats outraised Republicans incumbents in the last three months of 2017 in dozens of races, including in races seen as key pickup opportunities in 2018. Many challengers to incumbent Republicans are demonstrating a base of grassroots, small-dollar support to fuel their campaigns. The latest count shows 526 women running for office as incumbents or challengers — most of them Democrats — in Senate, House and gubernatorial elections. And early turnout projections show Democrats are as enthusiastic about voting as Republicans this year — the first time Republicans did not lead in that measure since 2006.
Another variable in Trump's Washington is distraction. Special counsel Robert Mueller's investigation into alleged Trump-Russia ties could produce wall-to-wall news coverage that is unfavorable to Trump, if we see the release of another indictment or guilty plea. Washington will likely face fights this spring that could bring the government to a standstill. While another short-term government funding extension is expected later this week, a debt ceiling fight looms in March. And the March 5 deadline to extend the Deferred Action for Childhood Arrivals program is approaching.
There's no doubt that with historic campaign spending planned and activism months ahead of November, this year could see major waves for Democrats. But it's still far too early to predict the outcome. In 2006, polls a month or two prior to the midterm election showed Democrats leading Republicans by a spread of 0 percentage points to 23 percentage points. Democrats ultimately picked up 31 House seats. This year, it's still more than 10 months to Election Day.
Today's question: What are you expecting in November?
Please email us at trumpsamerica@mic.com with your thoughts.
This week in Trump's America:
Shutdown watch, again: House Republicans are planning to vote on a measure that would fund the federal government through March 22. But it's not clear that can pass the Senate, let alone clear the conservative wing in the House GOP.
The government will shut down again, as it did for three days in mid-January, if the Senate cannot get 60 "yes" votes on funding legislation.
Immigration: Sens. John McCain (R-Ariz.) and Chris Coons (D-Del.) plan to introduce a bipartisan immigration bill that would protect DACA recipients and study what border security measures are necessary. The legislation is likely dead on arrival in the Senate, let alone the House. Still, it's seen as the opening pitch for an immigration deal to pass Congress.
If Democrats agree to fund the government, McConnell has promised open debate on proposals to reform the U.S. immigration system and protect DACA recipients. But Democrats and Republicans remain deeply divided. Democrats have roundly rejected the immigration policy Trump outlined in his State of the Union address Tuesday.
Watch for Congress to potentially punt on addressing DACA for a year, Politico reported.
Olympics: The Winter Olympics begin Friday in South Korea. Vice President Mike Pence will use his presence at the games to highlight North Korea's participation as a sham "to cover up the fact that they are the most tyrannical and oppressive regime on the planet," a Pence aide said.
The memo: Republicans released a memo on Friday that outlined the FBI's reasoning for investigating former Trump campaign associate Carter Page. The fallout was swift.
Trump said the memo vindicates him, a notion Democrats quickly dismissed. Republicans distanced themselves from Trump's assessment of the document, which was condemned by the FBI. Rep. Trey Gowdy (R-S.C.) said the memo does not undermine Mueller's investigation, and Sen. Chuck Schumer (D-N.Y.) called for Republicans to also release a Democratic memo that counters the GOP memo that came out Friday. House Intelligence Committee members will vote Monday on whether to release that document. Meanwhile, Rep. Devin Nunes (R-Calif.) promised more memos will be released, which reportedly indicate staffers in the Department of Justice have ties to Hillary Clinton.
Paul Ryan: The GOP House speaker deleted a tweet over the weekend that touted that a woman gained $1.50 a week — enough to pay for a Costco membership — as a result of tax reform. Ryan faced stiff criticism for extolling such a small boost.
California: In America's largest and bluest state, women are struggling to gain traction in races up and down the ballot.
Paid family leave: Sen. Marco Rubio (R-Fla.) is working with Ivanka Trump on paid family leave — and trying to create a proposal that could win over Democrats.
Payday lenders: The Trump administration has warmed up to payday lenders, firms the Obama administration cracked down on over what it viewed as predatory lending practices.
Abortion: The GOP is pursuing limits on abortion early on in legislative sessions in states nationwide.
Today's MicBite:
Jack Smith IV dives into a new star self-help guru on the alt-right, a man who believes Marxists are secretly running America. Click or tap below to watch.
Feb. 5, 2018, 10:30 a.m.: This story has been updated.