Gus Kenworthy didn't medal in slopestyle at this Olympics, but his on-camera kiss made him a legend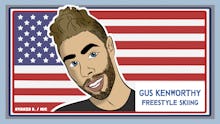 During the Winter Olympics, Mic is tracking a group of athletes who are smashing records and breaking boundaries. To follow the coverage, visit our Olympics hub.
Name: Gus Kenworthy
Gus Kenworthy finished 12th in the men's slopestyle final on Sunday, telling the New York Times he was forced to bail on final jumps because his edges were "wobbly." But regardless of his performance on the slopes, he won America's heart after a photo of Kenworthy kissing his boyfriend went viral on Twitter.
"My childhood self would never have dreamed of seeing a gay kiss on TV at the Olympics, but for the first time ever a kid watching at home CAN!" Kenworthy tweeted.
Before the games, Kenworthy graced the cover of ESPN magazine. He's earned sponsorship deals with major brands like Proctor & Gamble. He's medaled at the last four X Games events he's competed in. He won a silver Olympic medal in Sochi in 2014. He was aiming for a gold medal in Pyeongchang — this time, as an out gay Olympian.
Kenworthy joins Team USA figure skater Adam Rippon as one of the first out gay male athletes to represent the U.S. in Pyeongchang. The former Olympic silver medalist came out publicly in 2015, telling ESPN senior writer Alyssa Roenigk that he thought about taking his own life when he considered how his friends and the skiing world might negatively react to knowing the truth about him.
"I was insecure and ashamed," Kenworthy told ESPN. But minutes after the ESPN feature went live, Kenworthy's phone blew up with notifications and messages of support.
"I was crying and it is quite a weird sensation to set yourself up for one outcome and then get the total opposite" he told Reuters.
In Pyeongchang, Kenworthy sees himself as representing two entities — the U.S. and the LGBT community. During his Olympic selection event in January, he tweeted out "#TeamUSA #TeamUSGay."
"There are all these stereotypes and stigmas that people have associated in their mind over time but nothing breaks barriers down more than visibility or representation," he told Reuters.
Kenworthy may have a shot at the gold, thanks to his smooth moves in slopestyle (the sport where skiers navigate through an obstacle course on a slope). But it's his humble attitude that makes him an ideal role model for queer and straight kids alike.
Seeing former figure skater Tonya Harding struggle as a diner waitress after getting fourth at the Olympics in the movie I, Tonya led Kenworthy to reflect to on his own Olympic career:
"It made me realize, there are so many athletes who work so hard that don't make it to the Olympics, or maybe they make it and then don't perform there, then it's just back to normal life," Kenworthy told W Magazine. "I realize how fortunate I am to have been able to make a life and career out of skiing. I feel so lucky to have gotten silver in the last Olympics, and to have the opportunity to fight for gold in this one."
When to watch Gus Kenworthy compete:
Men's slopestyle qualifier, Feb. 17 at 8 p.m. Eastern