Hype List: What to check out this week, including 'The 15:17 to Paris' and 'Winnie'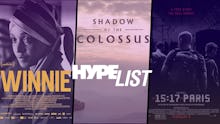 Welcome to the Hype List, a weekly recommendation series in which columnist Tirhakah Love highlights all of the pop culture happenings — movies, music, television, books and more — you need to know about.
TV: Winnie
If there was ever a figure who became representative of the sensibilities and struggles of an entire nation, it is the late Nelson Mandela. But a new PBS documentary casts a spotlight on the activist work and complicated persona of his wife, Winnie Madikizela-Mandela. Directed by Pascale Lamche (who also helmed the doc Accused #1: Nelson Mandela), Winnie features interviews with the woman herself, as well as lawyers, journalists and opponents.
It's all in service of looking at Madikizela-Mandela's life and fight against apartheid, as well as the struggles she faced as an outspoken woman in the public eye, and the controversies that led her to be cast as "the Sinner Lady" to Nelson's "Saint," according to Lamche. Regardless of how you may feel about Madikizela-Mandela, Winnie tells the real-life story of a resilient black female political leader, which is simply a tale that we don't hear enough.
Winnie premieres Monday on PBS.
Video Game: Shadow of the Colossus
When Shadow of the Colossus initially dropped in 2005 for Playstation 2, its gorgeous visuals, transportive atmosphere and meditative mood gave credence to the idea that video games are a legitimate art form. With its remastered version hitting the Playstation 4 this week, the critically acclaimed classic receives a robust 4K upgrade that fine-tunes environmental specifics, fixes a wonky control scheme and even features a "Performance Mode" to boost graphics for those with capable televisions.
The minimalist plot — you travel across a landscape battling 16 different giants called colossi — remains the same, but the graphics updates to the bosses, like enhanced details in their fur and robust sound cues create a feeling of real weight and gravity during the operatic fights. Whether you're a newcomer or plenty familiar with the original game, if you're looking for a way to escape our world and travel to another, search no further.
Shadow of the Colossus will be released Tuesday on Playstation 4.
Movie: The 15:17 to Paris
The main draw of The 15:17 to Paris is simple: Director Clint Eastwood cast three Americans (Spencer Stone, Anthony Sadler, and Alek Skarlatos) who helped halt a 2015 terrorist attack on a European train to play themselves in a fictionalization of the incident. Eastwood, a filmmaker known for his obsession with American hero narratives, is trying to recreate the actual experience of being on that train — the shock, fear, anxiety and adrenaline — as accurately as possible. Speaking to the Los Angeles Times about the production, Eastwood said, "I thought, 'If I can get them approaching this thing without too much thought and too much worry and anxiety, they could do it.'"
Of course, there are professional actors on the roster (including Jenna Fischer and Judy Greer), and the story doesn't only focus on the terrorist attack (there are scenes of the three men's childhood friendship). But the train sequence and the novel approach to casting are the movie's big talking points. It can't help but feel like there are some politics at play, what with this being an Eastwood film, and there will undoubtedly be some macho military pandering. But this is an intriguing enough of an exercise that it's worth a look.
The 15:17 to Paris will be released in theaters Friday.