A closely watched 2018 House race now features a Nazi candidate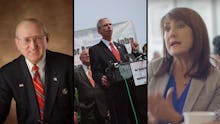 For months, Democrats and progressives have been closely following the race for Illinois' 3rd Congressional District, where one of the House's most conservative Democrats is facing a primary challenge from a progressive outsider.
Now the spotlight on the district has intensified with the inclusion of a self-proclaimed Nazi in the race.
On Sunday, the Chicago Sun-Times reported that the only candidate to have filed to run in the district as a Republican is Arthur Jones, a racist anti-Semite who claims to have once been the leader of the American Nazi Party.
Jones made a name for himself as an outspoken Holocaust denier, calling the genocide that claimed the lives of 6 million Jews and many others a "racket" and "the biggest, blackest lie in history." The Anti-Defamation League has been tracking his activities for years.
"Well first of all, I'm running for Congress, not the chancellor of Germany. All right. To me, the Holocaust is what I said it is: It's an international extortion racket," Jones told the Sun-Times in an interview.
The 70-year-old has unsuccessfully run for a number of public offices in Illinois, including his seven attempts at the GOP nomination for Congress in Illinois' 3rd District. But this year he's finally poised to clinch that nomination, because he's the only candidate on the ballot for the March 20 primary, and the filing deadline has passed.
Jones will likely win the Republican primary by default, a reflection of the broader candidate recruitment challenges that the GOP is facing in 2018. As of late December, there were 80 congressional seats where Republicans did not yet have a candidate who filed with the Federal Elections Commission. As of Thursday, there were only 15 seats where no Democrats had filed.
The race for the 3rd District's congressional seat was already being closely followed by national media because of the hotly contested primary race on the Democratic side.
Incumbent Democrat Rep. Dan Lipinski, who has been in Congress since 2005, has drawn the ire of many national progressives for his notorious conservative apostasy. Lipinski supports a constitutional amendment to ban same-sex marriage, has voted repeatedly to defund Planned Parenthood, opposed the Affordable Care Act and supports making it more difficult for Syrian refugees to enter the country.
Lipinski is being challenged by progressive businesswoman and anti-bullying advocate Marie Newman, whose campaign touts her support for same-sex marriage, abortion rights and immigration reform. Despite the fact that Newman is new to politics and challenging an incumbent Democrat, she has been endorsed by two members of Congress from Illinois, as well as by outside groups like NARAL, Emily's List and the Service Employees International Union.
With a likely Republican candidate with Nazi affiliations, it could be more difficult for Lipinski to argue that his conservative brand of Democratic politics is necessary to win over his district's moderate voters.
One thing is for sure — with Democrats fighting over the future direction of their party, and Republicans with a Nazis in their ranks, Illinois' 3rd District officially looks to be the most "2018" congressional election of all.