The false pretense of size inclusivity on 'America's Next Top Model'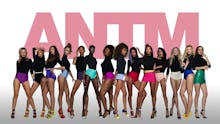 "America's Next Top Model has changed the definition of beauty and empowered women when they needed it most."
That's what host Tyra Banks said at the beginning of America's Next Top Model's 24th cycle, which is Banks' first season back after leaving the show (albeit briefly) in 2015. "Every shape, every size, every color," Banks said before introducing viewers to the women who might make it to the top.
Before cycle 24 even premiered, there was hype it would be the most inclusive yet. They got rid of the age limit! There would be contestants who could be considered curve! Many readied themselves to be blown away by how different this lineup would look compared to cycles past.
But then we saw the top 14 this cycle, consisting of just three models who were considered "curvy": Ivana West, Liz Harlan and Khrystyana Kazakova, who calls herself a body-positive activist.
With most American women being plus-size themselves, this remains surprising for a show as apparently devoted to inclusivity as ANTM.
By the fourth episode (spoiler alert), Harlan and West are gone. Only Kazakova, whom the judges seem to really like, remains.
ANTM does a lot of things right. It has, since its beginning, celebrated black beauty: There's never been a cycle with all-white contestants, and there's scant been an all-white top four, either. (Cycles 11, 15 and 16 are the exceptions.) Among the top 15 models who kicked off cycle 24, more than half are black, including women with darker skin tones and hair textures.
In a time when shows inspired by African motifs can have far more white models than black models and diversity in ad campaigns is (slowly) creeping up, this matters.
ANTM has also, purposefully or not, opened up conversations around all kinds of inclusivity. There was star model Winnie Harlow, who has vitiligo, in the 21st cycle. This cycle, there's Jeana, who has alopecia and had her head shaved bald during the show's famous makeover episode. (She looks great.)
ANTM was one of the first major modeling competition shows to include a transgender model in its 11th and 17th cycles — the great Isis King — as well as models with disabilities. There was deaf model Nyle DiMarco from cycle 22; Amanda Swafford, who is legally blind, competed in cycle three.
With the age range gone in cycle 24, the oldest model on the show now is Erin Green, who is 42 and was brought on by Banks at the last minute to turn the typical top 14 into the top 15.
In an industry so obsessed with one singular idea and definition of beautiful, the conversations around these contestants and their beauty are both powerful and necessary to have.
However, when it comes to size diversity, ANTM has long fell short. In the cycles with both female and male contestants, no plus-size or huskier men were included. As for curve or plus-size women, they have been few and far between.
Cycle one had Toccara Jones, a fierce plus-size model whose most famous scenes involved her being treated poorly because of her size at photoshoots. In cycle four, model Keenyah Hill was notoriously fat-shamed by Banks and the other judges after her stomach had to be digitally augmented to look flatter for a shoot. There's only been one plus-size ANTM winner: Cycle 10's Whitney Thompson, who's veered away from modeling herself since.
"Season one of America's Next Top Model, I had what we called at the time a plus-size girl," Banks recently boasted to Vulture. "Now they're calling them curvy girls. I've had transgender girls. All these things that weren't necessarily cool or in the mainstream when we did it."
It is true that ANTM was early to this, but for a cycle that was set to be lauded for its diversity, there's just one curve girl left a few episodes in. If the show can devote an entire cycle to shorter models, for instance, why no real love for the curvier girls this cycle, which also had no size requirement? It's not only a huge shame, but a missed opportunity.
Imagine how glorious it could have been to see a woman who is Tess Holliday's size, or even more like Denise Bidot. Judge Ashley Graham, who is arguably the most successful plus-size model there is, remains the curviest woman on the ANTM set.
This cycle is an improvement from cycle 23, which had no plus-size or curve models whatsoever. But if this cycle was meant to set any kind of bar for diversity in modeling, the bar is evidently on the floor.