Ashley Graham and her 53-year-old mom star in Swimsuits for All's latest campaign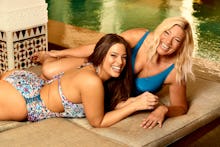 While plenty of swimsuit companies have gotten wise to the fact that people enjoy seeing models of different sizes and shapes in their campaigns, with stretch marks and scars proudly on display, not as many have realized just how great it can be to see women older than, say, 40 in these campaigns too.
The inclusive swimwear brand Swimsuits for All, which sells swimsuits up to a size 34, is one of those companies that has been doing this rather beautifully. Most recently, in a campaign for the Ashley Graham x Swimsuits for All Resort 2018 collection, which is available up to a size 22, the company cast both Graham and Graham's mom, Linda Graham, who's 53.
The campaign images themselves are rich, and were shot on a Moroccan beach, complete with a camel.
"I haven't worn a bikini since the '80s!" Linda Graham said in a release. "I don't think I could have uncovered that inner strength without Ashley. That makes being a part of this campaign so much more special — she's my rock and inspired me at age 53 to be proud of my body again after I lost my own fortitude."
"She promoted body positivity in our household before it was a movement," Ashley Graham said of her mother, in a release. "Her feel-good attitude toward her own body has shaped my ability to remain positive and self-assured. I could not think of anyone better to join me in celebrating beauty of all shapes and sizes in this campaign."
Before this campaign, Swimsuits for All had been actively bringing women above age 50 into its campaigns. In 2016, its #SwimSexy ad in the Sports Illustrated swimsuit issue starred Nicola Griffin, who was 56 at the time and made history by being the oldest model to ever appear in the issue.
"I hope that my presence in #SwimSexy will make the public think about how society has determined what makes someone beautiful and sexy," Griffin told Mic at the time. "Rarely do you see older women in fashion campaigns, and I am pleased that #SwimSexy shows people that women of all shapes, ages and walks of life are gorgeous."
In 2017, the company did it again, showcasing women older than 50, and women of various sizes as well, in its Sports Illustrated ad.
"Our aim is for women to recognize that body positivity is not about hitting a certain goal in order to feel confident in a swimsuit, i.e. 'when I lose a certain amount of weight, when I have a tan, if I was younger, etc.'" Sara Mitzner, the vice president of creative and branding at Swimsuits for All, said in an email. "There is power in ones life journey, and if women are able to acknowledge that, they can feel great in a swimsuit TODAY."
Feb. 5, 2018, 3:35 p.m.: This post has been updated.