In blow to GOP, Supreme Court won't hear Pennsylvania gerrymandering case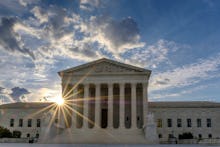 The Supreme Court delivered a huge blow Monday to the Republican Party's chances of keeping control of the House of Representatives by opting not to take up a case concerning gerrymandering in Pennsylvania.
A lawsuit brought by the civics group Public Interest Law Center as well as some Democratic Pennsylvania voters alleged the state's gerrymandered of congressional districts violated the Pennsylvania Constitution by heavily favoring Republicans.
In January, the Pennsylvania Supreme Court ruled that the state's congressional map did indeed violated the state constitution, and had to be redrawn ahead of the 2018 midterm elections.
Republican litigators attempted to overturn that ruling with a final appeal to the Supreme Court. But on Monday, the nation's highest court chose not to hear the case, effectively allowing the state Supreme Court's ruling to remain in effect.
Pennsylvania has been ranked one of the most gerrymandered states in the country. Because of the partisan district lines drawn by Republican state officials after the 2010 census, Republicans represent 13 of the state's 18 congressional seats. This is despite the fact that Pennsylvania is an near-evenly divided swing state, which President Donald Trump won by less than 1 percentage point in the 2016 presidential election.
The liberal elections blog Daily Kos estimated that redrawing the districts could give help give Democrats anywhere between one and six of the 24 seats they need to win in order to take control of the House of Representatives.