Philadelphia Eagles players are already refusing to visit Donald Trump's White House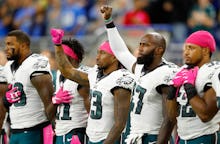 The Philadelphia Eagles won the Super Bowl on Sunday, but at least three of the team's players have said they will skip the customary White House visit as an act of protest against President Donald Trump.
Wide receiver Torrey Smith and safety Malcolm Jenkins, both of whom are black, and defensive end Chris Long, who is white, announced their decisions during media interviews either leading up to or following Sunday's game.
"I personally do not anticipate attending," Jenkins told CNN's New Day on Monday after being asked about Trump's tweet congratulating the team.
"No, I'm not going to the White House," Long told the Pardon My Take podcast Jan. 28. "Are you kidding me?"
NJ.com's Matt Lombardo reported that Smith announced his own decision Wednesday. When asked on Twitter why he was not going, Smith replied: "It goes beyond politics ... I don't think [Trump] is a good person."
Smith also directed a snarky tweet Monday at Trump supporters who doubted his team would notch the win necessary to secure an invitation in the first place.
All three players have been critical of the president. Jenkins is among the group that raised fists in solidarity with those who kneeled during the national anthem before NFL games over the past season — a demonstration Trump has railed against repeatedly.
Long declined to join many of his fellow Patriots teammates on their trip to the White House in 2017, joining Devin McCourty, Martellus Bennett and others in their protest against the president. Both Long and Jenkins tweeted their disappointment in Trump's response to the white supremacist rally in August 2017 in Charlottesville, Virginia.
Of the three, only Smith explicitly said Trump was the reason he would skip the White House visit. But both Jenkins and Long implied as much, making their announcements in response to questions about the president and their activism. Together, the three Eagles players count themselves among several athletes across multiple sports who have either declined White House invitations or feuded publicly with Trump over the NFL's national anthem protests launched by Colin Kaepernick — or both.
Trump in September went so far as to disinvite Golden State Warriors star Stephen Curry from the White House after the point guard announced he would not go should the opportunity arise.
"[You] bum," Cleveland Cavaliers forward LeBron James tweeted in response to Trump's comments. "[Curry] already said he ain't going! So therefore ain't no invite. Going to White House was a great honor until you showed up!"
Trump has yet to extend an invite for the Eagles to visit the White House, so it remains to be seen whether Jenkins, Long and Smith's protest is a moot point. Either way, their squad boasts the added accomplishment of defeating the New England Patriots, a team whose three highest-profile representatives — quarterback Tom Brady, head coach Bill Belichick and owner Robert Kraft — are friends of the president.