'Newsweek' journalists who worked on stories about parent company abruptly fired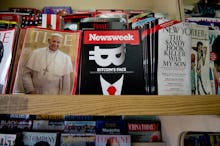 Newsweek's editor-in-chief, executive editor and at least one reporter at the news organization were fired Monday in an abrupt shake-up that has rattled the newsroom, staffers told Mic.
Newsweek editor-in-chief Bob Roe, executive editor Ken Li and senior writer Celeste Katz were among those fired Monday. Newsweek Media Group staffers, who asked to remain anonymous so as not to hinder their own employment, told Mic they suspect the employees were targeted due to their recent reporting on Newsweek's parent company, Newsweek Media Group.
Two staffers told Mic that Josh Saul, another Newsweek senior writer, was identified as another staffer who would be fired, but said Tuesday the company had yet to carry out his firing because he is out of the office on vacation.
"It appears we're witnessing the Newsweek Media Group carrying out its own Saturday Night Massacre," one employee said.
Three staffers told Mic that both Roe and Li had been supportive of Katz's and Saul's reporting on the tumultuous developments at Newsweek Media Group in the past two months.
Katz and Saul shared bylines on reports on investigators from the Manhattan district attorney's office raiding Newsweek offices. The two investigative reporters had also written about the suspension of a top Newsweek Media Group staffer, chief content officer Dayan Candappa, who took a leave of absence following a report that he had sexually harassed a staffer at a previous job, and about the abrupt resignation of two top executives, chairman Etienne Uzac and finance director Marion Kim, at Newsweek Media Group on Thursday.
Katz left Newsweek's offices Monday afternoon to a standing ovation, two staffers said. One person said Katz was escorted through the building by Newsweek Media Group's general counsel and by the company's head of human resources.
A spokesperson for Newsweek Media Group would not confirm whether Saul remained an employee, saying the company does not comment on personnel matters. An email sent Tuesday to Saul's company email address bounced back as undeliverable.
Meanwhile, at the International Business Times, another Newsweek Media Group title, staffers have rallied around reporter Josh Keefe, who shared bylines with Katz and Saul on the stories about their company's internal turmoil. Staffers suspect Keefe was supposed to have been among those fired, and several news outlets reported he was among those let go Monday. A message sent to Keefe's Newsweek email address had on Monday afternoon bounced back.
An IBT staffer who also asked to remain anonymous for fear of retaliation, however, told Mic that Keefe remained at the company's offices on Monday afternoon, and that his firing seems to have been put "on hold." According to that staffer, editors are trying to prevent Keefe's dismissal. Several writers have threatened to resign in protest if Keefe loses his job, the IBT staffer added.
On Monday afternoon, Newsweek Media Group told staff in an internal memo that Nancy Cooper, the managing editor of IBT, would serve as acting editor of Newsweek.
The memo, which Mic reviewed, confirmed that Roe and Li had left the company.
Johnathan Davis, a co-founder of the company now known as Newsweek Media Group, will serve as chief content officer of the company while an outside group conducts an investigation into the sexual harassment allegations involving Candappa, the memo said.
Newsweek Media Group did not immediately respond to requests for comment.
One Newsweek staffer said that Newsweek Media Group has not addressed the situation in a memo or note, and that most employees have been left in the dark, scrambling to find out what happened through rumors and word-of-mouth. That staffer said senior members of Newsweek management were scheduled to meet with Newsweek Media Group CEO Dev Pragad, but the meeting has been delayed.
"There's a lot of fear right now," another staffer said. "And everyone is really pissed."
The firings have so disrupted the newsroom that remaining editors have told staffers to go home for the day and not to work, sources told Mic. Some Newsweek staffers are even packing up their desks in anticipation for the worst; others said wryly that they may head to the bar. Other employees have stayed on site, setting up a bar in the office and waiting anxiously for more information.
"We don't have upper management anymore," one staffer said. "We don't really have a newsroom anymore.
That staffer said that there had been conversations among some employees about whether there was a way to make a statement to Newsweek Media Group to express solidarity with their co-workers who were fired Monday.
One Newsweek staffer said the remaining employees felt "gutted" after they learned of the firings.
"We have been doing good work under an editorial staff that has been working hard to protect us," that staffer told Mic. "We feel horrible that they're gone."
After the firings, Newsweek senior writer Matthew Cooper on Monday resigned from the company, apparently in protest, CNN first reported. The veteran reporter did not immediately return a phone call from Mic requesting comment, but had confirmed his exit on Twitter and posted his resignation letter in full.
"While I haven't always agreed with Bob Roe and Ken Li during their tenures leading the magazine, their efforts to pursue the scandals at Newsweek were admirable and their reported firing (along with two reporters) is a disgrace," Cooper wrote in a letter addressed to Pragad. "This coup d'grace comes at the end of a string of scandals and missteps during your tenure. Leaving aside the police raid and harassment scandal — a dependent clause I never thought I would write — it's the installation of editors, not Li and Roe, who recklessly sought clicks at the expense of accuracy, retweets over fairness, that leaves me most despondent not only for Newsweek but for other publications that don't heed the lessons of this publication's fall."
The latest development has devastated a newsroom that has already been under intense business pressure, and had been buffeted with a string of negative stories about the company. On Feb. 1, a BuzzFeed report that alleged that Newsweek Media Group was engaging in ad fraud rocked the newsroom and made some staffers fear for the company's financial future, they told Mic.
That BuzzFeed report landed hours before Uzac abruptly stepped down from the company along with Kim.
Feb. 6, 2018, 5:26 p.m.: This story has been updated.