Figure skater Mirai Nagasu is the first American woman to land a triple axel at the Winter Olympics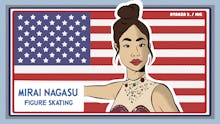 During the Winter Olympics, Mic is tracking a group of athletes who are smashing records and breaking boundaries. To follow the coverage, visit our Olympics hub.
Name: Mirai Nagasu
During the figure skating team event at the Olympics, 24-year-old Mirai Nagasu had a powerful first performance in South Korea. Performing her free skate program, she nailed her famous triple axel, making her the first American woman, and the third woman ever, to land the notorious jump on Olympic ice. Nagasu's strong performance helped Team USA earn the bronze medal in the figure skating team competition.
Nagasu placed 10th overall in the individual women's event. She attempted but did not complete another triple axel during her free skate on Thursday night Eastern. In an Instagram post, she wrote that she hit a rut in the ice. But Nagasu was in good spirits afterward: "Sometimes you just have to take it all in with a smile on your face. Even with the flaws, I enjoyed my Olympic performances," she wrote on Instagram.
Nagasu placed fourth at the 2010 Winter Olympics, but was not selected to Team USA for the 2014 Games because the selection committee thought another skater had a better international track record that year.
After the heartbreak of not getting selected, Nagasu moved from California to Colorado and began training with a new coach. Four years later, she has, at last, been selected to represent Team USA in Pyeongchang.
"Failure is inevitable — and it's the people that keep trying who become successful," she told ESPN in January. Nagasu's signature jump is the triple axel — a move where a skater jumps off one foot and rotates three and a half times around before landing on one foot. The first American woman to land this move in international competition? Tonya Harding. The pinned tweet on Nagasu's Twitter feed is a video of her nailing the triple axel.
Nagasu's parents, who both immigrated from Japan, run a Japanese restaurant in Arcadia, California, the Washington Post reported. Nagasu would help them clean up the restaurant when she came home from school, and her mother would make time to sew her daughter's figure skating costumes.
"To all the little girls out there, I would tell them to really appreciate what their parents do for them," Nagasu told the Washington Post. Nagasu's parents, who remained in California to run their restaurant when their daughter moved to Colorado to train, will be cheering her on in Pyeongchang.
Nagasu was not expected to medal; none of the American women were favored to place in figure skating during these Olympic games. But Nagasu, a consummate performer and formidable athlete, was worth watching. Her expressive and explosive performances are a reminder that her style of figure skating is art in motion.
Feb. 23, 2018, 11:00 a.m.: This article has been updated.