'Throwback ThursDate': Dating while bisexual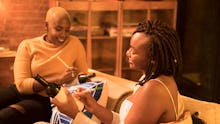 "I think there's a lot of misconceptions about people who are [bisexual]," Gloria Cange, a 23-year-old paralegal, said. "People say that you're just promiscuous, or, 'You're just using this as an excuse to go out and have fun.'"
This dismissal of one's sexuality is called bisexual erasure. GLAAD describes bisexual erasure (or bisexual invisibility) as "a pervasive problem in which the existence or legitimacy of bisexuality (either in general or in regard to an individual) is questioned or denied outright."
This erasure is the denial of a sexuality that falls outside of a specific societal binary: the mindset that people can be either gay or straight. "People like to label you because it's easier for them," Cange said.
"I grew up in a very strict household" with parents who are religious, she said. "Having that ingrained in me made me be in denial about my attraction to women." Cange said moving to New York opened things up for her. Growing up, she said, homosexuality and bisexuality were too "taboo" for her to even "entertain the thought."
Only recently did Cange begin her journey of claiming her sexuality proudly. "It's definitely scary," she said, "because of ... society and my upbringing and … what everybody thinks."
Regardless of the pressure she feels from outside sources, Cange keeps a positive outlook on dating: "Just worry about making yourself happy."
For the fourth episode of Throwback ThursDate on Facebook Watch, Cange goes on a blind date with a surprise guest: her and her date's social media history.