As Congress debates punting on DACA, "Dreamers" face greater job, life uncertainty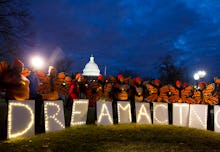 Welcome to Mic's daily read on Donald Trump's America. Want to receive this as a daily email in your inbox? Subscribe here.
Tuesday's dispatch: DACA recipients living in limbo
A deal to renew Deferred Action for Childhood Arrivals recipients continues to elude Congress. Senate Majority Leader Mitch McConnell (R-Ky.) has said he will introduce immigration legislation to be debated on the Senate floor if lawmakers vote to keep the government open beyond the Thursday deadline. That assumes Democrats and Republicans don't strike a deal first, which seems unlikely.
In fact, some senators are floating the idea of pushing the DACA deadline back — perhaps for up to one year. Sen. Lindsey Graham (R-S.C.), a key immigration negotiator, told Politico he thinks the inability to find 60 votes in the Senate and 218 votes in the House to pass immigration reform may lead to Congress punting the issue again.
For the hundreds of thousands of DACA recipients who were brought to the United States as children, news of potentially pushing back the date far beyond the March 5 deadline President Donald Trump created for the program to expire further complicates their uncertain lives.
Nearly 20,000 DACA recipients have already lost their protected status since the federal government stopped renewing the program in October, according to the Center for American Progress. Each day, 122 more recipients lose the right to live and work in the U.S.
Peter Boogaard, communications director for pro-immigrant group Fwd.us, told Mic a recent ruling in California that lets DACA recipients apply to renew their status — even as the program may expire — further complicates tracking those who have lost their protection. So far, Fwd.us is not aware of any DACA recipients who have had their protections renewed by the government.
Boogaard estimates that between March 5 and November, 300,000 DACA recipients will lose their ability to live and work in the United States. Hundreds of thousands of DACA recipients who hold jobs would lose their work status in 2018. Tens of thousands already have, according to a Fwd.us study.
"Congress has already missed the window of time when they could truly provide certainty for those individuals and the businesses that employ them," Boogaard said. "It's urgent they get this fixed, so there's clarity for these people to understand they can continue to work in their jobs ... and clarity for the businesses that employ them."
Eliana Fernandez is one of nearly 800,000 so-called "Dreamers" — a name given to undocumented young immigrants who could be given a pathway to citizenship by the legislative proposal the Dream Act — on the bubble. Fernandez told Mic she came to the U.S. at 14 from Ecuador. Now at 30, she has graduated from college, bought a car and a house on Long Island in New York. She lives there with two children, ages 5 and 10, who were born in the U.S.
Fernandez said further extending the DACA debate would make planning her future impossible. She has no idea what she would do if forced to leave her home.
"That's a thought I don't think my brain is willing to process," she said. "I don't know what we would do. I want to be here for as long as we can with my kids, building the life that I had, keep contributing to this great country."
Monica Camacho Perez, 23, came to the U.S. when she was 7 years old. The Mexican-American has left the U.S. once, in 2016, to visit her sick grandparents. Perez said she is proud of her heritage, but that trip showed her that she belongs in the U.S. Her DACA status will expire in 2019. She's already preparing for that possibility and has delayed buying a car to save money for a potential deportation. In the meantime, she's studying to become an elementary school teacher at Baltimore City Community College — which she can pay only because her DACA status affords her in-state tuition.
"They act like our lives don't matter because we don't have a piece of paper that says we are U.S. citizens," Perez said in an interview. "This is the only country that we know. This is the only country that we recognize."
Today's question: Are you expecting an immigration deal?
Please email us at trumpsamerica@mic.com with your thoughts.
Tuesday in Trump's America:
The markets: Trump has repeatedly taken credit for a soaring stock market. Now will he take credit for an historic drop? The Dow Jones industrial average recorded its largest one-day drop in history on Monday, and the stock market has now erased its 2018 gains. With Asian and European markets falling on Tuesday, losses are expected to continue in the U.S when markets open.
Russia investigation: Trump's attorneys want him to refuse an interview with special counsel Robert Mueller, the New York Times reported. The lawyers are concerned Trump could be charged with lying to investigators by making a false statement.
Immigration: Trump dismissed a bipartisan immigration proposal introduced by Sens. John McCain (R-Ariz.) and Chris Coons (D-Del.) on Monday. Trump will sign a memorandum on Tuesday that establishes the National Vetting Center, a clearinghouse for government-wide efforts to vet immigrants entering the U.S.
Trump talk: The president accused Democrats of being "treasonous" and "un-American" for not supporting many moments of his State of the Union speech.
Opioid epidemic: Under the direction of Kellyanne Conway, Trump is expected to propose massive cuts to the White House "drug czar" office in favor of having political appointees lead drug policy efforts.
Shutdown watch: The House will vote Tuesday to fund the Department of Defense for a year, but the rest of the government only through March 23. The bill would also fund community health centers for two years — essentially an olive branch to Democrats. It's not clear whether Democrats will support the bill in the Senate, which is set to consider entirely different funding legislation. Buckle up.
Yes, this is happening: A Nazi will likely be the Republican candidate in a competitive Illinois U.S. House race in the fall.
Gerrymandering: The Supreme Court will not hear a challenge to a Pennsylvania Supreme Court decision that the legislature redraw congressional districts that are fair before the 2018 elections. The state court found Republicans intentionally drew districts to favor their candidates.
Memo fight: The House Intelligence Committee voted Monday to release a Democratic drafted memo that paints a different account of facts related to the FBI investigation of Trump associates. Trump has five days to decide whether to release the document. This follows the release of a GOP drafted memo about the Russia investigation on Friday.
Nearly three-quarters of Republicans now believe the FBI was politically motivated and trying to undermine Trump, according to a Reuters/Ipsos poll.
Nuclear weapons: The U.S. and Russia say they have complied with the terms of a 2011 deal that lowered the number of nuclear warheads possessed by each country.
"Money matters": A former Hillary Clinton and House Democratic campaign operative sounded the alarm in USA Today about Democrats not having enough money to fully capitalize on a potential "wave" election.
Eagles: Some members of the Super Bowl champion Philadelphia Eagles have already said they will not visit the White House, continuing a trend begun by New England Patriots players in 2017.
Today's MicBite:
The tallest wind turbines ever have just been built — and they also harness the power of hydro power. This is how.