GOP lawmaker wants to impeach the state Supreme Court to keep his state gerrymandered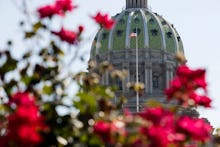 A GOP lawmaker in the state of Pennsylvania is attempting to impeach five members of his state's Supreme Court over a ruling Monday that he didn't like.
Pennsylvania state Rep. Cris Dush, a Republican, sent a memo to his colleagues Monday, asking them to sign on to legislation to impeach the five justices over their ruling, which ordered that Pennsylvania redraw its current congressional map so as not to favor Republicans.
"The five justices who signed this order that blatantly and clearly contradicts the plain language of the Pennsylvania constitution, engaged in misbehavior in office," Dush said in the memo before asking his colleagues to sign onto their impeachment.
Pennsylvania is considered one of the most gerrymandered states in the country. Thirteen out of the 18 representatives in its congressional delegation are Republicans, despite the fact that the state voted for Trump by less than a point in 2016 and has more registered Democrats than Republicans.
In January, the Pennsylvania Supreme Court ruled that the current gerrymandered congressional map violates the Pennsylvania state constitution and ordered that a new district map be drawn up ahead of the 2018 midterm elections.
On Monday, the U.S. Supreme Court declined to hear a challenge to that case, effectively allowing the state Supreme Court's ruling to stay in effect.
Dush did not raise the issue of impeachment until after the U.S. Supreme Court had declined to hear the case, even though the state court issued its ruling in January.
The alleged "misbehavior" only apparently became a concern for Dush after it became clear that the order could not be overturned by a higher court.