Men in Hollywood are finally learning to embrace the power of a colorful suit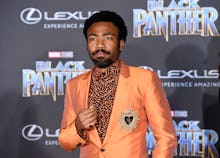 Red carpet menswear used to be so damn sad. You'd look across a red carpet at the Oscars or Grammys and see black tuxedo after black tuxedo. If they were feeling feisty, maybe we'd get a tiny peek at a velvet accent. The only true variation was if a guy chose to wore a long tie or — gasp! — a bowtie.
Ironically, as we wade through an era of red carpets in which women and men have chosen to opt for black as a sign of solidarity, men have found their opportunities to step it up. In fact, we've recently avoided the endless sea of black tuxedos and suits in favor of pops of color, accessories and superb styling on the red carpet.
The most glaring example of this is Donald Glover, whom we consider to be one of the few good men on Earth, at the Black Panther premiere in Los Angeles.
He arrived in a suit that was not only orange but also had a sheen and some embroidery — and it was designed by Dolce & Gabbana.
Sorry, sun. You've been replaced.
A few men have been at this for a while. Rami Malek showed up at the 2017 Met Gala in all-red Dior.
Riz Ahmed fully weakened us when he arrived at the 2017 Oscars in cobalt blue.
Glover's actually a veteran of this sort of thing, showing up to the 2017 Emmys in purple and the 2017 Golden Globes in brown velvet.
(Let's give a big shoutout to Ilaria Urbinati, the stylist for all these fine gentlemen.)
Back in 2017, these guys made up a very small group of men who were taking these chances on the red carpet. Now more men, and especially young actors, are getting hip to the idea that they can gain fashion attention and affection for not wearing just black. Thank god for that.
A prime example of a Hollywood newbie who gets this is Timothée Chalamet.
To the Oscar nominees luncheon Monday, Chalamet showed up in a green suit and some extremely rad Gucci shoes.
Maybe Chalamet was inspired to go for this green after seeing Sam Smith show up in a slightly different shade of green — more frog-ish, we'd say — at the Grammys.
With star turns in Call Me By Your Name and Lady Bird, Chalamet isn't totally new to these pops of color: He showed up in bright blue at the Toronto International Film Festival in September.
He went for blue again at the London Film Critics' Circle awards in January, but this time with a bit more sheen and high boots.
Daniel Kaluuya, of Get Out and Black Panther fame, has also been showing the other guys how it's done. To the Black Panther premiere, he rocked a maroon velvet jacket over a bright white kanzu.
Kaluuya arrived at the Oscar nominees luncheon Monday in a brown suit with a light blue shirt and tie.
Now that we're back on the topic of the Black Panther premiere, it's only right to give a shoutout to Chadwick Boseman, the star of Black Panther, who's been similarly daring with his fashion. He wore a satin, floral jacket from Emporio Armani to the movie's premiere.
To another Panther premiere in Seoul, South Korea, he wore this entirely patterned Dzojchen suit with a little tie at the waist.
Elegance incarnate.
And while Black Panther star Michael B. Jordan usually opts for black, he's made a habit of accessorizing beautifully, wearing bejeweled shoes to the Los Angeles premiere of Black Panther.
At the Grammys, there was Khalid in pink and green Ferragamo.
The Grammys also saw Zayn Malik in pink Richard James.
And there again was Glover, our patron saint of risk-taking fashionable men, in bright white Ermenegildo Zegna.
These sartorial choices would have been massive risks just 10 years ago. But now, to a fashion industry growing increasingly interested in menswear — perhaps because of the industry's rising revenues — these guys stand as examples of how most men on a red carpet should look.
Death to the all-black suit, we say. It's time to embrace some color.