Trump's lawyers don't want him testifying in front of Mueller — and for good reason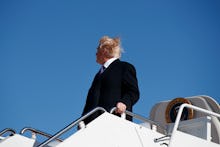 Will President Donald Trump testify before special counsel Robert Mueller?
He's waffled on the question so far, alternating between saying he's "looking forward" to testifying and the more cryptic, "Certainly I'll see what happens."
But according to a New York Times report Monday, some of the president's lawyers and advisers are recommending he decline Mueller's upcoming interview request.
As the Times noted, the move would be both a legal and political gamble that could stretch out the Russia probe deep into 2018 — and perhaps even beyond. But it could also be the only way to protect Trump from getting himself into legal peril.
Since May, when Trump fired then-FBI Director James Comey, Mueller has been conducting a multipronged investigation related to Russia's 2016 election interference. Two of the fronts that concern Trump are the question of whether his campaign colluded with the Kremlin and the question of whether he attempted to obstruct justice at any point during the course of the probe.
That second question has been of increasing focus for Mueller, who is reportedly interested in asking Trump about the firing of Comey and former national security adviser Michael Flynn. He also seems particularly interested in the misleading statement Trump reportedly helped craft aboard Air Force One in summer 2017 on behalf of his son to explain a shady 2016 meeting between top members of his campaign and a Kremlin-connected lawyer believed to have dirt on Democrat Hillary Clinton.
But Trump's legal team has long been wary of allowing the president to do a face-to-face interview with the special counsel's office, fearing that his famous propensity to lie and exaggerate could get him into legal trouble. As Fox News' Andrew Napolitano has warned, putting the president in front of the special counsel could be a "perjury trap."
"It only takes a couple of slip-ups for them to say to his lawyers, 'We caught your client in a lie. Do you want us to present this to a grand jury and see if they indict him?' That would be catastrophic for the president. Don't give them that opportunity," Napolitano said Tuesday. "Don't help them prosecute you."
But declining to be interviewed could trigger a lengthy — and messy — legal battle between Trump and Mueller, according to the Times. Mueller could issue a grand jury subpoena to Trump, possibly leading to a Supreme Court fight. It could also further imply that he has something to hide; Democrats, and even some Republicans, have raised questions about why the president has demonstrated such hostility toward investigators.
Trump has continued to insist that the suggestion of any wrongdoing on his part is nothing but a "hoax," saying over the weekend that the memo released by Rep. Devin Nunes (R-Calif.) on Friday "totally vindicates" him. Carter Page, the campaign aide that the memo claims was improperly surveilled by federal investigators, has said he was also vindicated by Nunes.
But outside the most pro-Trump circles, the memo has appeared to be every bit the dud some in the White House privately feared it would be. It suffered from a number of credibility issues, undercut its own argument and didn't appear to negatively impact the way Americans see the Russia probe.
Now, following a unanimous vote in the House Intelligence Committee on Monday, the president will face pressure to release a Democratic rebuttal to the Nunes memo that may further poke holes in his argument that there's anti-Trump conspiracy afoot in the FBI and Department of Justice, which some feared he'd use to justify terminating Deputy Attorney General Rod Rosenstein — who was named in the four-page Nunes report — or Mueller.
Democrats have warned Trump that doing so would result in a "constitutional crisis," and several Republicans — including Rep. Trey Gowdy (R-S.C.), who helped pen the GOP memo — have said the Nunes report doesn't have "any impact on the Russia probe" and that the president shouldn't see it as an excuse to interfere with it.
So, with the investigation speeding ahead for now, the president will have to decide if he'll cooperate with the special counsel or escalate the battle against him.
According to the Times, some of Trump's legal staff and advisers both in and outside of the White House believe Mueller hasn't demonstrated sufficient reason to question him and that the president can win a fight with the special counsel in the courts.
But other legal experts believe that precedent is not on the president's side here, and that resisting Mueller's request for testimony would be difficult.
"The upshot of the Nixon tapes case was that any president is going to have an extremely hard time resisting a request from a law enforcement officer," Neal K. Katyal, an acting solicitor general in the Obama administration, told the Times on Monday. "In general ... presidents do sit for interviews or respond to requests from prosecutors because they take their constitutional responsibility to faithfully execute the laws seriously, and running away from a prosecutor isn't consistent with faithfully executing the laws."