Squaw Valley ski resort uses Tesla batteries to replace fossil fuels with renewable energy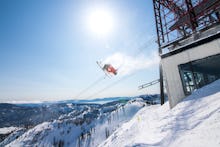 Tesla's SpaceX, the world's most powerful rocket that's on a path to Mars, has attracted widespread attention in recent days. But Elon Musk's company has other plans to make a big impact on Earth and its inhabitants — one that, for Tesla, hits much closer to home.
On Monday, a Northern California ski resort announced a partnership with Tesla and Liberty Utilities, an electric service provider, to slash the resort's carbon emissions by nearly 50% by the end of 2018.
Squaw Valley Alpine Meadows — a four-hour drive from Tesla's Palo Alto headquarters and the U.S. Ski and Snowboard Association's official training site — currently uses 13,078 metric tons of carbon annually. It has pledged to reduce its emissions to 6,682 metric tons, or roughly the amount of emissions generated by 959 homes in a year.
Ski resorts have both financial and environmental incentives to reduce their carbon footprints and to lobby lawmakers to focus on climate change. Many of these vacation areas are likely to lose a lot of revenue — or close completely — if climate change results in shorter winters.
Aspen Skiing Company, for example, published its first sustainability report in 1999, and the organization Protect Our Winters is a climate advocacy group for the outdoor sports community. Yet, if the Squaw Valley Alpine Meadows resort sticks to its timeline, it will be the first ski resort to be powered exclusively by renewable energy.
The big reduction is possible on such a fast timeline because Tesla and Liberty Utilities are constructing an energy storage facility on Squaw Valley's property. Tesla batteries will let the resort store excess power generated by solar panels to help reduce its reliance on coal and natural gas. It will be the size of two semi-tractor trailers, Andy Wirth, president and COO of Squaw Valley, said in an interview.
Tesla will help the utility company build the energy storage system that will power both the resort (including chairlifts and snowmaking operations) and homes in the community.
No major corporations were committed to 100% renewable energy six years ago, yet "there are over a 100 corporations [now] who have such a commitment," Gary Cook, a senior corporate campaigner at Greenpeace, said in an email. Cook said that for ski resorts, climate change is a "direct threat to the bottom line," since rising temperatures can significantly shorten the ski season. A study published in 2016 revealed that the length of the ski season will decrease everywhere in the U.S. by 2050, translating to a loss of hundreds of millions of dollars.
"Major ski resorts have become more aggressive in both their efforts to power their operations with renewable energy and in advocacy toward utilities and governments, demanding a transition to a renewable source of energy much more rapidly," Cook said, explaining that Aspen has been working with its community to demand that the local utility provider, Xcel, shut down two coal burning power plants and invest in renewables.
At Squaw Valley, the work toward sustainability is ongoing. In 2016, Wirth's team removed bottled water from the resort and also swapped in renewable light bulbs in order to become more energy efficient. And while the latest partnership with Liberty Utilities is a big deal, Wirth said the work isn't nearly done yet.
Squaw Valley still uses snow grooming machines that run on diesel, and the top contributor to the resort's carbon footprint is people driving their cars in, Wirth said. They hope to develop mass transit into Squaw Valley — but it remains to be seen if skiers will get on board.