Do we have a deal? Congress nears agreement to avert government shutdown, increase spending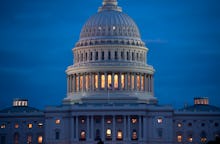 Welcome to Mic's daily read on Donald Trump's America. Want to receive this as a daily email in your inbox? Subscribe here.
Wednesday's dispatch: Do we have a deal?
The House voted Tuesday night to fund the military for a year and extend government funding through March 23, which is the fifth short-term extension Congress has passed since Oct. 1. Meanwhile, on Tuesday President Donald Trump said, "I'd love to see a shutdown" if Democrats don't make a deal with him on immigration.
In the Senate, a deal may be near. Sens. Mitch McConnell (R-Ky.) and Chuck Schumer (D-N.Y.) said Tuesday they are close to striking a bipartisan deal to increase funding for the military and other domestic programs, in a package that would also fund the government through March 23. That deal would also raise the debt ceiling, fund community health centers, provide disaster relief funding and put cuts to hospitals that serve low-income patients on hold.
Increasing spending would face stiff opposition from some House conservatives. However, this deal could be the framework of a compromise that yields a longer-term solution to the budget impasse. And Trump has not yet signaled that he would shoot it down.
Immigration, however, is not on the table in that deal. Lawmakers hope to reach an agreement on the budget and then move on to addressing the issue ahead of the March 5 expiration date of the Deferred Action for Childhood Arrivals program, which protects hundreds of thousands of individuals brought to the United States as children from deportation.
White House chief of staff John Kelly said the president is unlikely to push back that expiration date, or agree to Congress punting on addressing the matter for a year, an idea that has been floated by Lindsey Graham (R-S.C.). Kelly controversially said on Tuesday that he believes over 1 million immigrants are "too lazy to get off their asses" and apply for DACA, arguing Trump's proposal to grant a path to citizenship for 1.8 million immigrants is generous.
Government funding expires on Thursday.
Today's question: Should Congress deal with the budget — then immigration?
Please email us at trumpsamerica@mic.com with your thoughts.
Welcome to Mic's daily read on Donald Trump's America. Want to receive this as a daily email in your inbox? Subscribe here.
Wednesday in Trump's America:
Overnight: Democrat Mike Revis flipped a state House seat in Missouri on Tuesday night. Trump won the district by a nearly 30-point margin in 2016. Republicans did manage to hold onto three other special-election seats, though there were massive swings in favor of Democrats. Democratic candidates saw 20- and 30-point swings of support in their favor.
Sexual harassment: The House passed a bill Tuesday that would force members of Congress to pay sexual harassment claims out of their own pockets — not with taxpayer funds.
Opioids: The Daily Beast found that though the president has promised to address the opioid crisis, his administration has had little impact on communities ravaged with deaths from the ongoing crisis.
Resignation: Mogul Steve Wynn has stepped down from the casino company he founded, following dozens of sexual harassment allegations. Wynn had previously stepped down as the chief fundraiser at the Republican National Committee.
Pelosi: If Democrats don't take back the House this fall, there's already talk of who will replace Rep. Nancy Pelosi (D-Calif.) — assuming she steps down from her role as minority House leader of her own accord.
WH reshuffle? Vanity Fair reports that Trump "wants a killer" to lead his White House operation, resistance to the Russia investigation and campaigning for 2018. The president is unhappy with his staffers, who he does not see as fighting aggressively for his agenda.
Combatting gerrymandering: The National Democratic Redistricting Committee has raised more than $16 million of a $30 million goal to support gubernatorial, state legislative and down-ballot statewide races in states entirely or nearly entirely controlled by Republicans.
Speaks for itself: A Pennsylvania GOP lawmaker wants to impeach state Supreme Court justices to keep his state gerrymandered.
Military parade: Trump has ordered the Pentagon to plan a large-scale military parade in Washington, D.C. The march was inspired by a military parade in Paris that Trump saw on a visit to France.
From South Korea: Small business owners outside the Pyeongchang Olympic Stadium question whether the $13 billion economic investment for the games will be worth it for locals.
Student debt: A new study finds the U.S. economy would grow aggressively if the government canceled all student loan debt — $1.3 trillion currently held by 44 million Americans. That's less than the cost of the Republican tax bill.
Flake the critic: Arizona Sen. Jeff Flake, the most outspoken Republican critic of Trump in Congress, took to the Senate floor Tuesday to condemn Trump calling Democrats "treasonous" for not applauding during his State of the Union.
"Treason is not a punchline, Mr. President," Flake said.
Today's MicBite:
Before the #MeToo movement, there was Anita Hill, whose powerful legacy is both a reminder of how far we've come — and how much more there is to do. Click or tap below to watch.