Steve Wynn has stepped down from his hotel company, but the RNC will keep his money for now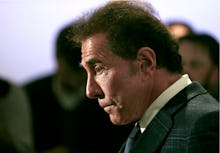 Steve Wynn is stepping down from his job as chairman and chief executive of his company Wynn Resorts, amid allegations of sexual harassment and misconduct, it was reported late Tuesday. The move comes about a week after the casino magnate was forced to resign as finance chair of the Republican National Committee.
In a story first reported by the Wall Street Journal, Wynn has been accused of having created a hostile environment for women at his casinos for decades and of pressuring employees to perform sex acts for him.
Despite the fact that the RNC and Wynn's own company have cut ties with the accused harasser, the RNC does not have immediate plans to give back the considerable amount of money Wynn has handed to them and other Republican party organizations.
This stands in contrast to the reaction of some within the GOP after Hollywood mogul Harvey Weinstein was accused by multiple women of sexual assault. RNC Chair Ronna McDaniel, for example, tweeted on Oct. 6, "If the DNC truly stands up for women like they say they do, then returning Weinstein's dirty money should be a no-brainer."
When allegations against Wynn began to surface, McDaniel suddenly changed her tone, saying in a Fox News interview that Wynn would have to be found guilty of a crime before the RNC returns his donations.
"Steve has denied these allegations," McDaniel said. "There is an investigation that is going to take place. He should be allowed due process. If he is found guilty of any wrongdoing, we will absolutely return 100% of the money."
That standard apparently did not apply to Weinstein, in her view, as the accused rapist has yet to be found guilty by any criminal or civil court.
The DNC came under fire for donating only a portion of the nearly $300,000 that Weinstein gave the group to the progressive political group Emily's List. Other Democrats and Democratic organizations donated the entirety of their Weinstein contributions.
Wynn has donated nearly half a million dollars to the RNC itself, as well as over $761,000 to the National Republican Senate Committee — the organization in charge of electing more Republicans to the Senate. Wynn Resorts also gave $729,217 to Donald Trump's presidential inauguration in 2016. Wynn has previously donated to some Democrats, including giving $30,500 to the Democratic Senatorial Campaign Committee.
While some Republicans have been proactive in donating their contributions for Wynn — Sen. Rob Portman (R-Ohio) gave his contributions from Wynn to an anti-sex-trafficking charity — the RNC has chosen not to do so, and the NRSC has so far been silent.
As the allegations eventually led Wynn to step down from his position and as the RNC's top fundraiser, the committee's position remained the same. When discussing his resignation from the RNC, McDaniel reportedly became emotional, tearing up and saying Wynn was "like family."
Now Wynn's own company appears to have decided that the allegations are serious enough to distance themselves from the man whose name is plastered across the side of their famous Las Vegas casino.
But the RNC is still waiting for more proof.