Valentine's Day 2018: 3 cheap or free date ideas — that will bring you closer together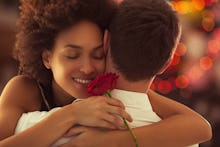 Young people in the United States have big plans to splurge this Valentine's Day: U.S. consumers are expected to spend nearly $20 billion on Feb. 14, 2018, with those aged 25 to 34 each shelling out an average sum around $200 — versus the nearly $150 for all age groups, according to the latest National Retail Federation survey.
Among the most popular ways to spend that cash — including on greeting cards and candy — an "evening out" is most likely to eat up consumers' budgets, with a total projected cash outlay of $3.7 billion. That's despite the fact that Valentine's is notorious for being among the most popular nights of the year for restaurants to fleece customers with inflated prices.
It makes sense that people want to spend money on meaningful gestures like cards and paying for dinner. But what can you do if you'd like to have a memorable time — without going broke at an overcrowded restaurant amid a sea of fighting couples and awkward Tinder dates?
Luckily, scientific research suggests that there are actually plenty of more innovative ways to maximize fun and romance, grow closer to that special someone and still avoid blowing all your savings.
In fact, these studies suggest a few rules of thumb that could also translate to fun ideas for those without significant others. Among consumers surveyed by NRF who aren't observing the holiday, 27% said they plan to treat themselves or spend time with friends or family.
So rather than viewing Valentine's Day as a necessarily stodgy and expensive tradition, consider cutting yourself a little slack and viewing it more as an opportunity to strengthen emotional ties to those in your life who matter. These three foolproof Valentine's Day ideas below won't cost you an arm and a leg — and don't even hinge on your relationship status.
1. Use science to maximize a cozy night in
There are surprising benefits to avoiding the crowds and using a few flourishes to dress up your typical night in. In fact, research suggests that Valentine's Day is the perfect time to turn your typical Friday Netflix and chill into something more far more romantic.
One reason? Winter months are the best time of year to turn a die-hard action movie buff into a rom-com-watching softy, at least according to one 2012 study. The conclusion of that paper was that people are more likely to pick out romantic movies when they're feeling cold, possibly in an attempt to simulate the feeling of physical warmth.
Beyond snuggling for heat, cooking is another no-brainer to make a budget-friendly Valentine's Day special: One in five Americans say that a person who can cook is their biggest-turn-on, according to one recent survey, and three in 10 said that a good meal could be more satisfying than sex.
You don't need to be a whiz in the kitchen to pull off a good date night on your own, although a dish with chocolate and a good bottle of wine won't hurt. Just be sure to practice moderation, particularly on the latter.
And what if you're single? Many of the same principles still apply. Invite over a friend or five for a dinner party or potluck: Cooking nourishes the human desire to feel altruism and can even improve your communication skills.
2. Embrace group dynamics
One of the most surprising, surefire ways to make your dates better? Make it a double. Multiple studies have suggested that double dates can help people feel closer to their own partners. One study even found that people feel closer to their partners after a double date than the more conventionally romantic candlelit dinner for two.
There are a few reasons why that might be. One is that double dates tend to be more likely to promote "high disclosure" conversations, that is, conversations that reveal more about ourselves and help partners understand one another. Double dates also enhance the perception of novelty, which is linked to enduring passion. And it doesn't hurt that splitting the bill with another couple could help cut down your Valentine's dinner spending.
That said, your plans don't have to include a traditional double date to offer psychological benefits: Studies in work settings, at least, suggest groups of about four or five tend to be optimal at making everyone feel happy and included. And for less than the cost of a prix fixe dinner for two, you could treat a whole crew to a Black Panther screening (assuming you can wait for the Feb. 16 premiere).
Love planning? Consider scouring local event guides for something even more memorable: From free concerts at the local college (bonus points if it's a conservatory) to open art galleries (bonus points if there's free wine) — it won't matter how good the art or wine is if you're also with your friends. You may even be able to save on pricier events with a Groupon deal.
3. Tap into the power of novelty
If a night on the couch or a group outing are not viable Valentine's Day options for you and bae, you can still inject research-approved excitement and meaning into your planned activities.
For one? Try a dose of adventure. The NRF found that while 42% of Valentine's Day celebrants say they would like to receive an experiential gift, only 24% of gift-givers said they are planning to purchase one — quite the mismatch.
That's all the more reason to build your Valentine's Day around an unusual trip: Nearby national parks, historic districts or farmer's markets all make for offbeat, affordable dates. Plus, those activities work just as well with a group of friends or your favorite family members, if you're romantically unattached.
Adventure is important in more ways than one. Some research into what makes couples remain passionate longer has suggested that, while it is important to keep trying new things in the bedroom, for example, everyone's sweet spot is different: So it might take a few tries to find the kind of variety that works best for you.
And what if your experimentation backfires? Take heart. There's even research showing that the more your partner can tell you're trying to improve, the happier and more secure they feel. In other words, there's always next year.
Sign up for the Payoff — your weekly crash course on how to live your best financial life.