All of the 65+ designers of color showing at New York Fashion Week this season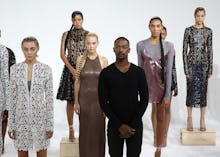 With New York Fashion Week: Men's wrapping up, it's time to divert all our fashion attention to New York Fashion Week proper, which is co-ed and home to big names in the fashion world like Chromat, Christian Siriano, Gypsy Sport, Calvin Klein and more.
It's where trends are both created and killed, and iconic fashion moments — both political and not — take place.
As with many NYFWs before, we like to keep an eye on the designers of color showing. In February 2017, there were 60 designers of color by Mic's count, and that was up from 46 the season before. In September, it was around 60 again, and this season, it appears to be an even larger amount of designers of color, topping 70 thus far.
For an event that's losing steam, at least now designers of color are getting the platforms they've long deserved.
All eyes will be on Alexander Wang's show on Saturday at 7 p.m. not only because it's notoriously packed with celebrities, but because it's set to be his last show at NYFW for the foreseeable future. He won't be decamping to Paris like many of his peers, but instead presenting in off-season in June and December.
With clients like Michelle Obama, Jennifer Lopez and Lupita Nyong'o, Bibhu Mohaptra's show on Friday at noon is set to be a stunner. A NYFW veteran himself, with his first show back in 2009, he's most known for his elaborate gowns that utilize to Indian fabrics and plenty of glamour.
In the minority with two female designers who are both women of color, Cushnie et Ochs' aesthetic is basically "the coolest girl you know." Carly Cushnie and Michelle Ochs' designs have been worn by Michelle Obama and Taraji P. Henson. They'll be presenting their show on Friday at 6:30 p.m.
We've been pretty open about our affection for Rio Uribe's Gypsy Sport. His shows are among the most outstanding in terms of diversity, casting people of different sizes, shades and identities in a show that is always far from boring. He's presenting on Sunday at 5 p.m.
Similar to Uribe in terms of creativity, LaQuan Smith's NYFW presentations are all about breaking norms. With diverse casting (including the likes of the lovely Leyna Bloom) and concepts like showing in a gymnasium rather than a runway, his show on Feb. 14 at 11 a.m. is set to thrill.
One of the few African brands showing at NYFW this season, Maki Oh was founded by Nigerian designer Amaka Osakwe, and its designs may look familiar to you since several of her pieces were seen on HBO's Insecure. With its elegant silhouettes and rather beautiful use of African prints, the show on Feb. 14 at 2 p.m. will likely be fantastic.
Naeem Khan is one of the most politically outspoken designers we have, and has often used his fashion shows as a way to make a political point. Naturally his show on Tuesday at 3 p.m. will be one to watch.
Similar to Khan, Prabal Gurung has also situated himself as a remarkably political aware and woke designer. With political statements spotted throughout his runway shows ever since the 2016 presidential election, his show on Sunday at 8:30 p.m. should be on your radar.
Fresh off winning the 2017 CFDA/Vogue Fashion Fund Award in November, Telfar's Telfar Clemens is well on his way to turning fashion on its head. With unique spins on streetwear and designs that tend to be gender fluid, his show on Friday at 9 p.m. will be a good one.