From cayenne to ghost pepper, spicy chocolate is the pairing of the moment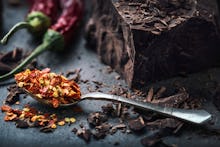 February, for obvious reasons, is a great month for chocolate lovers. Supermarket aisles are full of heart-shaped boxes of confections, bakeries have heart-shaped brownies and cookies, and pharmacies and bodegas sell chocolate like it's going out of style. The best time, whether you celebrate Valentine's Day or not, is when everything goes on sale Feb. 15.
This year, we're obsessed with a new chocolate combination: Nothing sets the mood quite like a hot pepper-infused chocolate bar. Adding spice to your dessert has several benefits: Studies show that people who eat spicy foods can live longer, and spice can help curb your appetite and burn calories after your meal — which probably won't negate a full-on chocolate binge, but still. More traditional pairings, like caramel or sea salt, pale in comparison to the pleasantly piquant flavors of jalapeño and habanero, spicy compatriots who complement the smooth, sultry taste of chocolate like never before.
The pairing is nothing new. Since chocolate was said to build resistance and good health, the Aztec ruler Montezuma allegedly drank copious amounts of "xocoatl," a frothy chocolate drink with vanilla, pimento and chili pepper, the Smithsonian reported. The chocolates below are some modern takes on the traditional duo.
Those who struggle with self-control will appreciate the single-serve packs of Fire Bites from Little Bird, a small and independent chocolatier in New York. They feature candied jalapeño to keep your taste buds on their toes, and you can choose from milk, white or dark chocolate. ($24.94 for six 1-ounce packs)
Ghost pepper is one of the spiciest peppers on Earth, and it is not for the faint of heart. This chocolate bar from Brooklyn-based Rakka has 68% cacao and is accented by the notorious ghost pepper. Valentine, beware! ($7.95 per 1.8-ounce bar)
Cinnamon, spice and everything nice are in this fair-trade chocolate bar that's available at most Whole Foods. By spice, we're talking pasilla chile and cayenne, which add warm and smoky flavors to this sophisticated bar. ($6 per 2.8-ounce bar)
The classic Lindt bar gets a hot upgrade, thanks to chili extract. Expect the same indulgent, smooth flavor of Lindt chocolate with a bit of an extra kick. ($3.99 per 3.5-ounce bar)
Pumpkin seeds add a satisfying crunch to this bar with cinnamon and cayenne. It's vegan-friendly and fair-trade certified, making it an ideal gift for chocolate lovers with discerning taste. ($5 per 3-ounce bar)
The subtle heat in these chocolates builds with every bite, so savor these small wedges instead of wolfing them all down in one go. The Tabasco brand turns 150 this year — celebrate by sharing a tin. ($4.95 per 1.75-ounce tin)
Taza chocolates have a slightly gritty texture since they are stone-ground "Mexican-style" chocolate, which results in a unique flavor unlike most conventional chocolates. Break off a wedge from the circular disc to enjoy the sweet heat from the bar's chili powder. Save some for homemade hot cocoa that's sure to warm you up on a cold February night. ($5 for a 2.7-ounce package)