Trump stock market tweet: Is the president right that "good news" caused stocks to drop?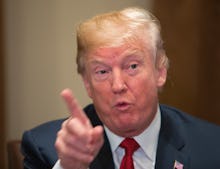 President Donald Trump tried his hand as an equities analyst Wednesday morning, tweeting that "in the 'old days,' when good news was reported, the stock market would go up. Today, when good news is reported, the stock market goes down. Big mistake, and we have so much good (great) news about the economy!"
Does the president make a smart point?
Trump is likely referring, of course, to the positive economic signs in Friday's jobs report — showing low unemployment and accelerating wage growth — paired with the drop in stock prices in recent days. A market pullback took the Dow Jones industrial average from its record high above 26,000 in January down to an intraday low below 24,000 Monday; meanwhile the broader S&P 500 index fell from a high of 2,800 to an intraday low below 2,600 Tuesday.
Indeed, though the market bounced back a little after close Tuesday and Wednesday morning, the indices still have not fully recovered from Monday's more than 4% single-day decline.
Why didn't good economic news help the stock market?
Is Trump right that it was a "mistake" for markets to tumble despite positive news about wages and employment? And was the behavior of stocks this week an aberration from past good "old days?"
Mic addressed the first question in a piece published Tuesday: While there is still some disagreement about exactly why the market pullback occurred, several logical explanations have emerged.
These include the rise of risky investment vehicles that can trigger volatility, rising bond yields, overly high stock valuations and — most saliently — investor fears that wage growth (along with tax cuts and an infrastructure package) could accelerate rising prices. The problem with price inflation is that it could prompt additional interest rate hikes from the Federal Reserve, which in turn could hurt stock performance.
In other words, even though Trump is perhaps correct to connect the "good news" to the drop in stock prices, there's a case that the market's reaction was rational. Arguably the real "mistake" is for stock prices to climb too far and fast — and it might be a healthy thing for small market corrections to occur, as investors adjust their economic expectations, get ready for a new Fed chair and pare down risk generally.
Now, to be fair, higher wages and employment rates mean workers can spend more money on goods and services, which surely helps economic growth and theoretically should be good for the stock market. On the other hand, historical evidence suggests a strong jobs market tends to lead to worse stock performance. That might be, as CNBC.com's Christina Wilkie tweeted, in part because it removes power from corporate employers.
Is this stock market behavior normal?
As for Trump's second point — about the "old days"? Whether he's right might depend on your definition of "old."
At least since the financial crisis (aka under President Barack Obama as well) it has actually been a common theme for signs of an improving economy to stoke fears of rising interest rates and lower stock prices, as Albion Financial Group chief investment officer and chief economist Jason Ware told USA Today.
If you don't believe it, check out this CNNMoney story from back in 2015, when it was reported that unemployment hit a 7-year low — and yet the Dow and S&P took a tumble.
Conversely, history shows that poor economic conditions do not necessarily lead to disappointing equity returns over the subsequent year or even decade.
So maybe the president doesn't exactly have all his facts straight.
But what does this all mean for you and your brokerage account? Is it possible that investors are acting overly fearful of inflation, and that the market still has plenty of room to run? Quite possibly!
Then again, are investors also less fearful than they should be about other warning signs — like the fact that stock prices (what people are willing to pay) relative to companies' real earnings (a measure of what stocks are actually worth) are roughly as expensive (cough, overpriced, cough) as they were right before the stock market crash of 1929?
That's the $30 trillion dollar question.
Sign up for the Payoff — your weekly crash course on how to live your best financial life.