Trump is now attacking the stock market for its volatility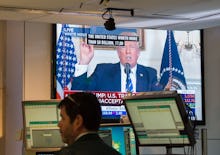 The president likes to defend his pugilistic behavior by describing himself as a "counterpuncher." But on Wednesday, he took a break from "counterpunching" his political opponents with demeaning appellations and started counterpunching an inanimate aggregation of market transactions.
"In the 'old days,' when good news was reported, the stock market would go up," Trump tweeted. "Today, when good news is reported, the stock market goes down. Big mistake, and we have so much good (great) news about the economy!"
It's unclear what the president hopes to accomplish by admonishing the stock market. In his first year as president, Trump made a habit of touting positive stock market performance as evidence of his administration's success. During his first State of the Union address Jan. 30, he celebrated the fact that "the stock market has smashed one record after another" during his presidency.
Just days later, the markets are experiencing some of their most volatile days in recent history. On Monday, the Dow Jones industrial average experienced its largest single-day point drop ever.
When Trump tweeted his warning to the markets Wednesday, the Dow was actually on the rise, recovering some of its losses from earlier in the week.