"BOMBSHELLS!" Trump says new batch of FBI texts are explosive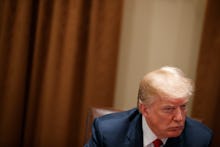 President Donald Trump is chiming in on the new batch of texts between FBI officials Peter Strzok and Lisa Page revealed by Fox News on Wednesday, tweeting that the messages are "BOMBSHELLS!"
According to Fox News, Page sent a text to Strzok in September 2016 informing him that "potus wants to know everything we're doing" — suggesting, according to the outlet, that former President Barack Obama may have had "personal involvement" in the FBI probe into the Hillary Clinton email scandal.
Strzok was a member of special counsel Robert Mueller's team of investigators, but was removed over the summer when anti-Trump texts he'd exchanged with Page — an FBI lawyer with whom he was having an affair — came to Mueller's attention.
Since learning of the text messages in December, the president and his allies have latched onto them as evidence of an anti-Trump conspiracy at the FBI and Department of Justice. They've repeatedly used the texts to attack Mueller's investigation into possible collusion between the Trump campaign and Russia.
However, a Wall Street Journal review of approximately 7,000 messages between Strzok and Page shows "no evidence of a conspiracy against Mr. Trump," the paper reported Friday.
Strzok and Page did express disdain for the president, however, slamming him as an "idiot" and a "menace." In January, Republicans fumed that the private communications between the two pointed to a possible "secret society" at the FBI. But the text on which that notion was based seems to have been a joke — not a secret conspiracy against the president.
"Are you even going to give out your calendars?" Page had texted to Strzok. "Seems kind of depressing. Maybe it should just be the first meeting of the secret society."
The texts between Strzok and Page have been but one part of a rift between Trump and federal law enforcement, one that recently escalated with the release of a controversial memo by Rep. Devin Nunes (R-Calif.) which alleged the FBI and DOJ had abused their power in surveilling Trump campaign aide Carter Page.
Trump said Friday that FBI and DOJ leadership have "politicized" the investigative process against Republicans, noting the Nunes memo "totally vindicates" him in the Mueller probe.
However, Rep. Trey Gowdy (R-S.C.), who helped Nunes author the memo, said the four-page report did not have "any impact on the Russia probe" and that the president shouldn't use it as an excuse to fire Mueller nor Deputy Attorney General Rod Rosenstein.
According to Fox News, the newly revealed Strzok-Page texts also have the FBI officials bashing the "ignorant [hillbillies]" who voted against then-FBI Deputy Director Andrew McCabe's wife in her 2015 bid for a Virginia Senate seat.
McCabe stepped down from his post Monday, following months of pressure from Trump.
McCabe was mentioned in one of the most controversial texts Strzok sent to Page. "I want to believe the path you threw out for consideration in Andy's office — that there's no way he gets elected — but I'm afraid we can't take that risk. It's like an insurance policy in the unlikely event you die before you're 40."
Trump's allies suggested the "insurance policy" pointed to an attempt to prevent Trump from winning the presidency. But the Wall Street Journal reported it actually referred to the Russia investigation.
In the final text between the two officials, Fox News reported, Page told Strzok: "Please don't ever text me again."
Rep. Ron Johnson (R-Wis.) will release the texts in conjunction with a report on the FBI's investigation into Clinton.