A swimsuit brand comes under fire for a campaign lacking diversity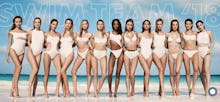 While plenty of brands have gotten the memo that people really dig seeing swimsuits modeled by women who are different sizes, shapes and ages, all while not being airbrushed, others, well, haven't.
Solid and Striped is one of those brands. In a new campaign image, which shows off its latest collaboration with several high-profile models, the models involved are all the same size, and among the 13 models used, only one model, Jourdan Dunn, is black.
In an age when stretch marks on models is seen as a good thing and all-white runway shows are bashed, the image looked nearly like a joke for how a fashion campaign shouldn't be done in 2018.
Immediately, in the comments on Solid and Striped's own social media accounts, there was concern: "Lol no one on the PR team thought this wasn't okay?" one commenter wrote on Instagram. Another: "Only models look like that. Doesn't make me want to buy the brand." And another: "Lol they literally said let's place this one black girl in the middle, that'll do it."
When Dunn posted the campaign herself, comments ranged from feeling genuinely bad that she was the only black model included, to bashing Solid and Striped some more.
"I'm sure she would have been much more empowered being amongst a diverse group than once again being the 'token black girl,'" one commenter wrote.
In an email to Mic, model Leyna Bloom wrote, "Everything that's going on in the world and they thought this was OK. It's not OK."
"What really irritates me is all the models in this image approved of this and that's why you all are all guilty and part of the problem," Bloom wrote. "I would have never agreed on being the only model of color of this particular spread in 2018. ... All these models are top models. They all could have said no! They don't care about diversity."
"Especially when you have clout in the industry, you can turn down projects for lack of diversity," Bloom wrote, referencing Dunn in the campaign. "Jourdan often speaks in interviews about how hard it is being a black model and all racism in fashion, and then she does this. The audacity to not think of your skin and your people. As a public figure and person in her position, you have the power to really change the culture, especially if you been one the top black models for years now. If... these white top models refused to be in non-diverse shoots, we could be on a brink of a whole industry change, but at the end of the day money talks. They will sell their soul for an opportunity. Purpose over popularity means noting to these models as long as they can cash their check. Enough is enough."
The conversation continued on Twitter as well.
In a statement to Mic, Solid and Striped founder and CEO Isaac Ross wrote: "Swim Team was and will continue to be a design collaboration, not a campaign. Each woman spent significant time in our studio throughout the entire creative process. The collection they designed was compelling and the response to the product so far has been overwhelmingly positive. As a brand, our intention has always been to empower women."
Noting that the intention was merely to bring in a number of model collaborators for this collection, Ross continued: "Our intention was to give an empowering, fun, creative outlet to a group of women who we as a brand are inspired by. When I embarked on this project we reached out to a broad and diverse pool of talent. The women with whom we collaborated had a genuine interest in taking time out of their schedules to be a part of the team. The intention was never to exclude anyone. I'm genuinely sorry Swim Team failed to represent a more diverse group of women. I acknowledge the problem and we will do better."